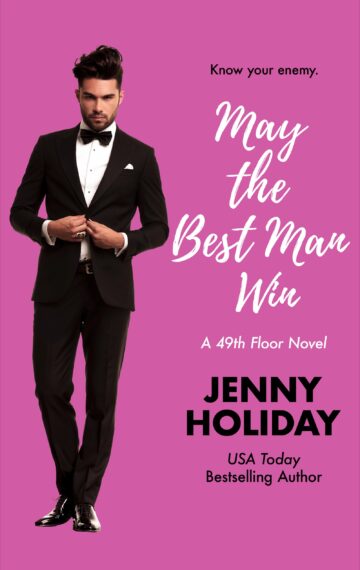 Publisher:

Entangled Publishing (2018), Jenny Holiday (2020)

Available in:

e-book
Buy at Amazon
Buy at Apple Books
Buy at Barnes & Noble
Know your enemy…
Twenty years ago, I was too smart and too poor to be cool. Now I'm laughing my way to the bank–the bank I'm CEO of. Nothing can touch me.
Except maybe him.
We met at summer camp. We made out under the stars. Then he stabbed me in the back.
They say revenge is a dish best served cold. But I'm gonna go with hot.
Alexander Evangelista is a millionaire with all the trappings: houses all over the world and hot guys lined up whenever he's in need of some no-strings-attached company. He's on his way to world domination.
A CEO in his own right,Cary Bell is competing for a major client with his boyhood crush. He's never forgiven himself for betraying Alex. But with his professional reputation on the line, he's going to have to find his inner cutthroat if he wants his new company to succeed.
Alex isn't about to let his nemesis steal a client out from under him. It's time to break Cary's company—and his heart.
(This book was originally published as His Heart's Revenge in 2018 by Entangled Publishing. It has undergone a light edit and has a new first scene.)
Praise for May the Best Man Win
"There are plenty moments of angst here, but the happy bits? Oh, the happy bits are the best. Even when Cary and Alex are at war and struggling with conflicting dynamics, they can't help but enjoy making the other laugh or smile. Holiday captures the bits of happiness so well. There are "smiling eyes" and "stupid, unhinged, undignified joy." I totally swooned, I won't lie." –The Good, The Bad and the Unread
"The way this story ended was perfect, as Alexander proves his love for Cary by reminding him of a good time in their pasts. I would recommend His Heart's Revenge by Jenny Holiday, if you enjoy second chance romances or the opposites attract trope." –Harlequin Junkie
"The emotion was intense and I connected with both characters as the story unfolded. His grovel was heart-warming and went perfectly with the storyline, both symbolic and genuine." –Scandalicious Book Reviews
Buy the e-book
Amazon | Apple Books | Barnes & Noble | Kobo