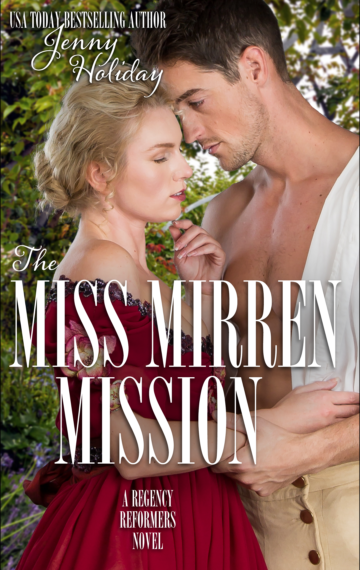 Publisher:

Jenny Holiday

Edition:

2

Available in:

e-book, Kindle Unlimited
Buy at Amazon
Loving her would be his downfall.
To society, the Earl of Blackstone cuts a mysterious figure. He is eligible, withdrawn, and endlessly fascinating. Yet as an integral part of London's underground spy ring intent on defeating Napoleon, Blackstone has no mistress but the cause.
Miss Emily Mirren is considered "unbiddable" by the ton. She wields a fierce intellect, which she channels into her own secret cause—writing an abolitionist newspaper column under a male pseudonym.
When Emily's aims clash with Blackstone's, they stray into a dangerous game of attraction and subterfuge, and secrets are the going currency. And in order to complete the most important mission of his career, Blackstone must thwart Emily, even if it breaks both their hearts.
Notes:
This book was originally published by Entangled Publishing. This second edition is not substantially changed.
The Miss Mirren mission is available exclusively on Amazon and is free for members of Kindle Unlimited.
"Everyone thinks being a reformer is so scandalous, but I tell you, it's appallingly sedate."