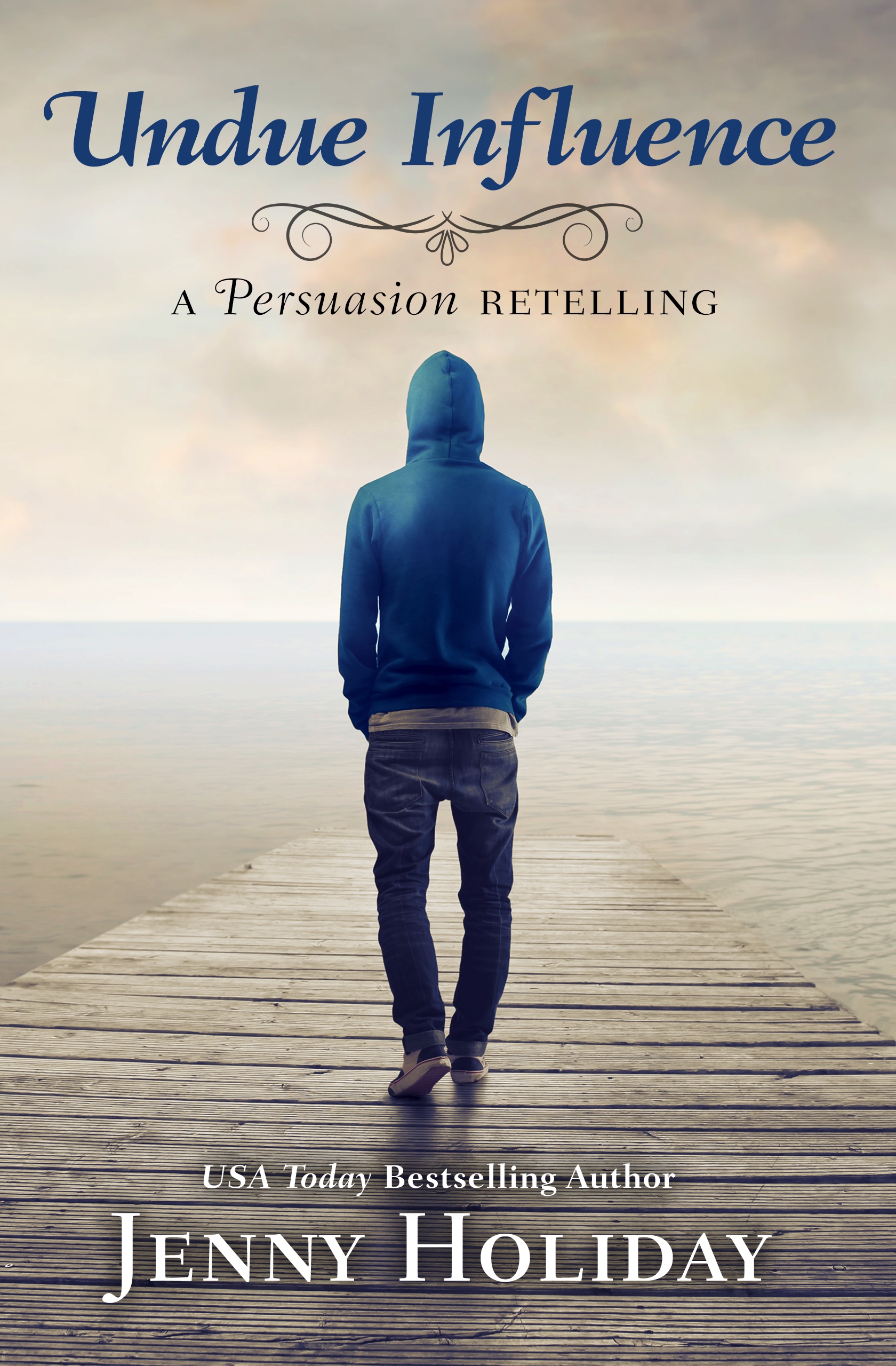 Publisher:

Jenny Holiday

Available in:

e-book, paperback, downloadable audio, audio CD

Published:

September 4, 2018
Buy at Amazon
Buy at Apple Books
Buy at Barnes & Noble
Undue Influence is a Lambda Literary Award finalist.
This modern retelling of Jane Austen's Persuasion is a standalone novel that can be enjoyed by Austen-philes and by those allergic to the nineteenth century.
Second chances only come around once. Eight years ago, Adam Elliot made the biggest mistake of his life. Now that mistake is coming back to haunt him. His family's beloved vineyard has gone into foreclosure, and the new owner is the sister of the only man he's ever loved—the man he dumped under pressure from family and friends who thought the match was beneath him. When Freddy Wentworth, aka the bad boy of Bishop's Glen, left town with a broken heart, he vowed never to return. But a recently widowed friend needs his help, so here he is. He's a rich and famous celebrity chef now, though, so everyone can just eff right off. But some things are easier said than done. Despite their attempts to resist each other, old love rekindles—and old wounds reopen. If they want to make things work the second time around, they'll have to learn to set aside their pride—and prejudice.  
Praise for Undue Influence
"I adored this book…Adam is adorable and I want to keep him in my pocket. He is so mild-mannered and quiet, but then has such a deep appreciation for the truly beautiful, and very much is like Anne of the original novel." –Elley the Book Otter
"It was a thoroughly enjoyable read and the ending, well, *chef's kiss*" –Love in Panels
"This stripped down, fluffed up, m/m retelling of Persuasion was just the thing I needed to ease my end-of-summer-vacation blues." –Just Love Reviews
Buy the e-book
Amazon |  Apple Books | Barnes & Noble | Kobo
Buy the paperback
The Ripped Bodice | Love's Sweet Arrow | Indie Bound | Amazon | Books-a-Million
Buy the downloadable audiobook
(also available in audio CD at some retailers)
Amazon | Audible | Apple Books | Kobo | Libro.fm