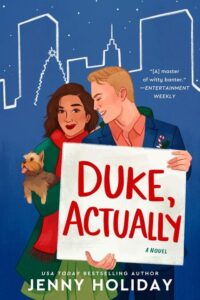 USA Today bestselling author Jenny Holiday follows A Princess for Christmas with another delightful contemporary Christmas romance between a playboy baron and a woman who has said goodbye to love.
There's a royal wedding on, and things are about to get interesting.
Meet the man of honor
Maximillian von Hansburg, Baron of Laudon and heir to the Duke of Aquilla, is not having a merry Christmas. He's been dumped by a princess, he's unemployed, and his domineering father has sent him to New York to meet a prospective bride he has no interest in. In the city, he meets Dani Martinez, a smart (and gorgeous) professor he's determined to befriend before their best friends marry in the Eldovian wedding of the century.
Meet the best woman
Newly single, no-nonsense New Yorker Dani is done with love—she even has a list entitled "Things I Will Never Again Do for a Man"—which is why she hits it off with notorious rake Max. He's the perfect partner for snow angels in Central Park and deep conversations about the futility of love.
It's all fun and games until their friendship deepens into attraction and, oops…
Falling in love was never part of the plan.
Preorder the e-book
Amazon | Apple Books | Barnes & Noble | Kobo | Google Play
Preorder the paperback
(also available in large print at some retailers)
The Ripped Bodice | Love's Sweet Arrow | Indie Bound | Amazon | Barnes & Noble | Books-a-Million | Chapters Indigo | Walmart | Target
Preorder the downloadable audiobook
(also available in CD at some retailers)
Amazon | Audible | Apple Books | Kobo | Google | Libro.fm
Chapter One
When Dani Martinez woke up on Friday the tenth of December, she thought, It's going to be a good day.
And then she thought, Liar.
But whatever, just because it was the last Friday of the semester and she was about to be inundated with forty-seven essays on The (Not So) Great Gatsby, it didn't necessarily follow that today was going to be bad.
So she hadn't done a lick of Christmas shopping, forget the fruitcake she was supposed to have started months ago. That didn't mean this particular day was automatically going to suck.
And just because the cherry on top of the day was going to be the English department's holiday party, at which she would "get" to see her still-not-quite ex-husband with his trade-in
Trollop didn't mean—Ah, forget it. This day was going to be crap.
Her phone dinged. It would be Leo, which would be a fortifying way to start this all-downhill-
from-here day. Because of the time difference between New York and Eldovia, they often talked early in the mornings New York time. Dani missed Leo and his sister, Gabby, something fierce, missed being able to go across the hall and have coffee in the mornings. Sometimes, before she was caffeinated, she forgot he wasn't there anymore. And then it would hit her anew: her best friend lived in Eldovia, where he was engaged to a princess. Dani was going to be his best woman in the fall at a freaking royal wedding.
Eyeing the slumbering ball of fur next to her, Dani executed a slo-mo roll to grab her phone from the nightstand—she wanted the ball of fur to stay slumbering until she'd had coffee.
The text was not from Leo. Good morning. It's Max von Hansburg. Marie gave me your number. I'm in New York for a few days. Can I take you to dinner tonight?
Speaking of royal weddings. Dani blinked, surprised to hear from Max, who was Princess Marie's best friend—and her ex-fiancé. Despite having been thrown over in favor of Leo, Max
was currently scheduled to serve as Marie's man of honor in the wedding.
Marie and Max's past was like a telenovela, complete with glittering balls, arranged marriages, and conniving parents. Leo had crash-landed in the middle of it, getting swept up in a gender-swapped Cinderella story that had made even Dani's stone-cold heart defrost a degree or two. Except in this version, Cinderella had left a bestie behind in the ashes. Or maybe Leo had passed the Cinderella mantle on to Dani?
Max—Dog Max, the main Max in Dani's life—did one of his signature snore-snorts.
Look, she even had an animal companion like Cinderella, except hers didn't flit around helping with the tidying.
Max: The concierge at my hotel can get us into Momofuku Ko. I could send a car for you.
The thaw in Dani's heart did not extend to Human Max, who, in addition to being a member of the Eldovian aristocracy, was insufferable. "I could send a car for you." What, like this was Pretty Woman? She considered the various ways she could decline his invitation. In the end, she went with brusque efficiency.
Dani: No.
Max: Lunch?
Dani: No.
Max: A drink?
Dani: No.
Max: Coffee?
Dani: Coffee is a drink.
Max: So that's still no?
Dani: Yes.
Max: Yes that's still no, or yes you'll have coffee with me?
Dani: Listen, dude. Or should I say listen, duke?
Ha! She cracked herself up. She sat up against her headboard to allow for easier texting, eyeing Dog Max, whose breathing did not change.
Max: Baron, actually.
She knew that. She'd googled Maximillian von Hansburg when she met him in Eldovia last summer. He was, despite his personality, unnaturally good-looking. And, really, who wouldn't respond to meeting a baron by googling said baron? She had learned that he was low-level
famous—or should she say infamous?—in European circles for being a globe-trotting,
womanizing playboy. The European tabloids called him the Depraved Duke, which as far as she could tell was a nickname that originated when he was photographed frolicking with a mystery woman while wearing an adult onesie on the deck of a yacht during the Cannes Film
Festival.
Max: My father has to shuffle off this mortal coil before I attain dukedom, and I can report that he is in fine health.
Dani: Okay, but here's my point: I am post-men. As I told you last summer.
Max: Yes, meaning you don't want to date, correct?
Dani: Correct.
Max: But what about Leo? You talk to Leo all the time. You flew across the Atlantic
last summer to visit him.
Dani: Leo's my best friend.
Max: I rest my case.
Dani: What does that mean?
Max: Leo is a man.
Dani: Your powers of observation are astounding. You'll forgive me if I'm suspicious, but I seem to have read an article with a headline that referred to you as a "man-whore."
Max: Were you googling me? I'm flattered.
She didn't bother replying. She wasn't about to defend said googling. That would sound like protesting too much.
Max: My point is, I'm not asking you on a date. I merely want to spend time with you.
Not sure what to say to that and seduced by the smell emanating from her programmable coffeemaker, Dani army-crawled out of bed. Minute shifts in the mattress were enough to wake Dog Max, but once she was out of bed, she could turn on the radio and have a dance party and he'd be oblivious. She contemplated Human Max's last text as she padded to the kitchen.
Dani: Why do you want to spend time with me?
Max: I like you.
That was such a weirdly straightforward answer.
Dani: Why?
Max: Because I get the sense that you are unimpressed by the fact that I'm an almost-duke.
Dani: That is correct. Max: I would even go so far as to say that my almost-dukeness works against me.
Dani: Still correct.
Max: I like that about you. You're normal.
Dani: Is that supposed to be a compliment or an insult?
Max: You don't like me. Therefore I like you. I'm like a kid who wants what he can't have.
That tracked with her image of him. Also, she was texting with a baron over her morning coffee—how surreal was that?
Dani: So in this scenario, I'm a toy you want. Nice.
Max: No, you're just an interesting person I would like to spend time with since I happen to be in your city.
She almost cracked as she took her coffee back to her bedroom to try to figure out what to wear that telegraphed "It's just a normal day, a day in which I continue to be unbothered by the fact that my husband is boning Undergrad Barbie, tra la la." You're just an interesting person I would like to spend time with. When was the last time someone had said anything like that to her? Well, never, because grown-ass adults did not speak like that, so openly and without guile. Her limited interactions with Maximillian von Hansburg suggested that he did, though. He told the truth. And even though that truth was often about his many and varied romantic and sexual conquests, there was something refreshing about his cheerfully relentless honesty. Max was a fuckboy, basically—a fuckbaron?—but he was a remarkably self-aware one.
There was also the "unnaturally good-looking" part.
Max: So there's no scenario in which you'll deign to get together with me today.
She was strangely tempted, but . . .
Dani: No.
She meant it about being post-men. Vince had done a number on her, and she was done. Not only done dating, but done arranging her life, even one day's worth of it, to please a man. She felt so strongly about that position that she'd put it in writing. Just in case she was ever tempted.
She had never imagined that temptation coming in the form of a baron.
She set the phone on her dresser, opened the closet, and fingered the forest-green taffeta dress she'd impulse-purchased in a fit of optimistic shopping earlier this fall. She'd thought then it would be a perfect holiday dress. But in addition to being too formal for this evening's party, not to mention for her afternoon class, taffeta was a try-hard fabric. Not an "I am completely over the fact that all of you in this room knew my husband was fucking around on me but apparently didn't respect me enough to tell me" fabric. Anyway, who was she kidding? She was never going to wear that dress. A year ago, she could have worn it to the opera with Vince. But she didn't go to the opera with Vince anymore. She didn't go to the opera with anyone.
Which was fine, because she didn't like the opera. She and Vince had been scheduled, in what turned out to be the week after he left, to go see some avant-garde production about a dude who loses his nose. Dani had looked at the entry on their shared calendar and, even though she'd still been in the sobbing-hysterically stage of the breakup, thought to herself, Well, at least I never have to go to the fucking Met again.
She moved the dress to the back of the closet and pulled out her standard day-to-
Evening black dress. It was a contoured number with a pencil skirt that had a pleasingly 1950s vibe to it. She could wear a blazer over it for teaching, then lose the blazer and jazz up the dress to make it more festive for the party.
How, though? Scarf? No. If she added a scarf to the retro dress, she would come off a little too Rizzo from Grease—although maybe some Rizzo energy was exactly what she needed right now.
Maybe she could make a jaunty hat out of the divorce papers Vince wouldn't sign?
Because wasn't that the cherry on top of everything? Husband leaves not only her but also the country—to spend a year's sabbatical in Spain, where his girlfriend spends her time posting Instagram shots of herself hiking the Camino de Santiago in a bikini top—but that same husband will not sign the divorce papers.
Vince was back for the holidays. Maybe all that time relaxing in the sunshine with said girlfriend had inspired him to move things along? A girl could hope. Even though seven sessions of mediation before he left had not provided her with reason to do so.
Dani ran her fingers over a tangle of necklaces that hung from a stand on her dresser. She needed a statement necklace. And she needed that statement to be Eff you very much, Vince. No, that wasn't right. The message she wanted to send was more Sorry, what was your name again? I have moved so far on while you were away that I can't quite remember but please sign the fucking papers. If only she had an accessory that would communicate that.
Hang on. She grabbed the phone. Max, apparently having finally gotten the point, had stopped texting.
Dani: On second thought, there might actually be a scenario in which I want to get together with you today.
Max: I wait on bated breath.
Dani: Any chance you want to be my plus-one to my work holiday party, at which my soon-to-be-ex-husband, Vince, will be in attendance, as will his new girlfriend, who is a former student of both of ours and who is twenty years younger than he is?
Max: Is your soon-to-be-ex-husband the main character in a Philip Roth novel?
She laughed out loud.
Dani: He might as well be. He's on sabbatical this year in Spain communing with the spirit of Picasso, but he's back for the holidays.
Max: The answer is yes, but I have questions. Question the first: Is this going to be one of those elaborately complex romantic comedies where we pretend to be in love to make your ex-husband jealous?
Dani: Unfortunately, he's not technically my ex-husband. My fondest wish is to relegate him to that status, but we're not there yet legally. As to your question, let's leave it vague. No need to make out or anything.
Max: Well, that's disappointing. I do so enjoy making out at office holiday parties.
Dani: No making out at the party. Or anywhere. In addition to being post-men, I am post–making out. If pressed, I'll call you a friend. But if you wanted to do me a solid and appear to find me the pinnacle of wit, that would be appreciated.
Though, really, there was no reason Max should "do her a solid." She'd been nothing but cool to him last summer in Eldovia.
Max: Question the second: Am I myself, or am I pretending to be, say, a visiting scholar of nineteenth-century literature who is therefore extra susceptible to your pinnacle?
Dani: You're yourself.
She was impressed, though, that he knew she studied nineteenth-century literature. If she'd said anything about it last summer, it had been in passing.
Max: So what I hear you saying is that in this one very specific scenario, you find it convenient that I'm an almost-duke.
God damn him.
Dani: God damn you.
Max: I might even go so far as to say that you're using me for my almost-dukeness.
Dani didn't want to be this petty, but . . . Okay, yes she did.
Dani: She's twenty years old. He told me she was his Lolita. That she saw the real him and that in order to take his writing to the next level he needed someone who could be a "helpmeet," and when I said we were each other's helpmeets, he said there can only be one helpmeet and one help-ee in any relationship. And then they went to Spain for a year.
Max: What time am I picking you up?
Dani: Five. I'll meet you there—it's a building on campus but not mine. I need to look up the address. I'll text it to you.
Max: Dress code? Formal? Business casual?
Dani: Dukeish casual.
Max: Understood. Prepare to be the pinnacle.
Dani smiled, dived onto the bed, and prepared to be love-bombed by the other Max, the main Max, who genuinely thought she was the pinnacle, no pretending required. As he did every morning, the little Yorkie acted like waking up next to her was the greatest joy of his life, going from dead asleep to vibrating with happiness as he crawled onto her lap. He might not do dishes like Cinderella's mice and birds, but he earned his keep in other ways, filling what had been a wrenching year with seven hyper pounds of unconditional love. "Good morning, my sweet," she cooed. He yapped in greeting, and she buried her nose in his fur as she hugged him.
Maybe today wasn't going to be as crappy as she'd feared.
***
Max was supposed to meet Dani at the faculty club on her campus, but since he arrived half an hour early, he looked her up in the school directory and had his driver drop him at the English building.
This was going to be fun. He hadn't been lying—he did like Daniela Martinez, not least because she didn't seem to like him. That wasn't something that happened. It wasn't that everyone liked him—he wasn't conceited enough to believe that. But he rarely encountered someone who didn't at least pretend to. Sparring with Dani last summer, when she'd come to Eldovia to visit Leo, had been a breath of fresh air in a remarkably stressful time. He'd only spent a day in her company, but she'd made an impression.
Dani's floor was a long hallway that had little stubby corridors off it, each marked with nameplates indicating whose offices were at the ends of the branches. He spied one with signs for "D. Martinez" and "M. Gable" and took the sharp turn, whereupon he ran into two students. Ran into one of them literally. "I beg your pardon. I didn't expect anyone to be here."
A boy wearing sweatpants and a sweatshirt with a Superman logo on it looked him up and down. "No prob, man."
The girl closer to Dani's door said, "Are you looking for Professor Martinez?"
"I am indeed."
She snapped her gum, but not in a way that seemed hostile. "Get in line."
He did. He hadn't wanted to be late and, not knowing how long it would take to get up to the Bronx from his midtown hotel, he'd budgeted too much time for the journey.
After a minute or so, a boy came out of Dani's office, and the girl went in. Superboy shuffled down the wall so he was closer to the door. Max did the same.
"Are you enjoying Professor Martinez's class?" Max inquired.
"I guess," the boy said flatly.
The girl emerged, having been in there less than two minutes, and Superboy went in. Max edged closer to the door, which was ajar, so he could eavesdrop.
"Hey, Professor M, I need you to do me a huge favor." I need you to do me a huge favor. Something about the way he'd phrased that rubbed Max the wrong way.
"And what would that be?" That was Dani's "I am not impressed" voice. Max smiled. He was acquainted with that voice.
The boy made a case involving a diving meet, a book forgotten on the team bus, and a thesis all worked out but not down on paper yet. Dani proceeded to systematically dismantle him but
subtly enough that the kid wasn't understanding the full extent of the burns he was sustaining.
It was hot.
Dani was hot.
Interestingly, that was a fact Max could note with detachment, which was another new experience for him. All the years he'd spent assuming he was going to marry Marie had also been spent, he would freely admit, slutting around. He and Marie had agreed that their marriage would be in name only and that discreet "extracurricular" activities would be allowed—necessary, even—once they'd done their duty with the turkey baster. Still, he had viewed the past few years as his last gasp of singledom and therefore of freedom and had conducted himself accordingly. When the world offered itself to him, he took. And when one was a wealthy duke-to-be, one had a lot of offers.
What one didn't have a lot of were refusals. But Dani, having made her disinterest in him clear from the moment she'd arrived on Eldovian soil, was a rare woman. Wickedly smart, deliciously witty, extremely pretty, and not interested. There were no hard-to- get long games being played there. Leo had told Max a bit about her ugly divorce-in-progress, and Dani herself had used the phrase post-men more than once. He had no doubt that she meant it.
She was a goddamn delight.
To Max's surprise, even though the boy was wilting under Dani's questioning about the thesis he supposedly had all worked out—it didn't seem he had actually read the book, which sounded like it was meant to be The Great Gatsby—she suddenly granted him a forty-eight- hour extension and abruptly dismissed him. "Happy holidays," she said so flatly she might as well have been saying, "Good riddance."
It was such an unexpected turnabout that Max, who had been lounging against the wall, stood up straight, startled.
"Are there any more students out there?" she asked the boy as he was on his way out.
"Students . . . no," the boy said, making brief eye contact with Max as he breezed by in possession of an extension he did not deserve.
When Max stuck his head into Dani's office, it was to find her peeling off a blue blazer to reveal a dress that looked like it belonged on Bettie Page instead of a literature professor.
"Oh!" She jumped.
"My apologies. I didn't mean to startle you. I'm merely here to ask for an extension."
She rolled her eyes in lieu of greeting him, sat at her desk, and pulled a small mirror out of a drawer. "You're early," she said to her reflection.
"My thesis is all ready to go." He sat on the guest chair and, as she started applying a deep burgundy lipstick, revised his previous assertion that he could appreciate Dani's hotness from a purely intellectual perspective. "Care to hear it?"
"I guarantee you I already have."
"None of the characters in The Great Gatsby have any inner life to speak of, making what is admittedly a masterfully written book into a mere melodrama."
She glanced at him with one lip painted. The contrast between the brick red of the finished lip and the pinky-beige of the natural one certainly was . . . something. "An interesting line of thought."
He thought she was going to say more, but when she merely returned to her task, he asked, "Why did you give that boy an extension? He was clearly feeding you lies. Does he know you at all?"
One eyebrow rose, though she was still looking at her reflection. "Do you know me at all?"
"I'm thinking the way to get an extension from Professor Martinez is to level with her. Own the fact that you erred—with time management or laziness or what have you—present a plan for ameliorating your error, and state your terms."
Ah, that cracked her. She put the mirror down and truly looked at him. Almost looked as though she might smile. "Did you hear the student before him?"
"No."
"She asked for a twenty-four-hour extension because she works two part-time jobs and she fell asleep at her computer last night."
"Did you grant it?"
"Yes. I told her to go home and take a nap and to take another week with the paper."
The fact that he had been correct about how to handle Professor Martinez when you were a wayward student in need of mercy was strangely, sharply satisfying. "Why?"
"Because she shows up to class prepared and has never asked for anything before. Because I see her working at the campus Starbucks all the time, and if that's only one job of two, that's a little sobering."
"Why did that boy get an extension, too? He sounded like his problem was merely laziness. I wouldn't have pegged you as a pushover."
"I have forty-seven American Lit papers to grade in the next week, so it doesn't really matter to me when they come in. And frankly, it's not worth the bad reviews on my student evaluations." She put away her mirror and took out her phone and looked at it for a long moment. She seemed to be reading something.
He took the opportunity to contemplate the concept of Dani receiving bad reviews. It was difficult to imagine. Along with her unexpectedly blasé response to the boy's request, it created a disturbance in the mental picture Max had of her, a surprising—and
intriguing—lashing of paint across an image he'd thought complete.
"You ready?" She stood and reached for her coat, and his appreciation of her dress—and
her lips, and her everything—grew even less intellectual.
"You want to give me any background on the Picasso fanboy? Did you say his name was Vince?" he asked while he tried not to be too overt about his escalating appreciation. "Or about the new girlfriend?"
"Neither of them have any inner life to speak of, so nah." She flashed him a little smile. It was pleasingly conspiratorial. "I'm sure you—" Her speech came to an abrupt halt as he rose from her guest chair. She froze with one arm in her coat and the other out. No part of her moved except her eyes, which traveled rapidly up and down his body.
He looked down at himself. "What? Not suitably dukeish casual?" The New York trip was a short one, so he only had the one suit with him. He'd almost worn it without a tie, but in the end he hadn't been able to make himself do it. If a man was wearing a suit, he should wear a suit—all its pieces, not some haphazard, choose-your-own-adventure version of it.
"It was a pun on business casual," she said.
"I understood that. Is this not business casual? You Americans with your dress codes. You put words together that either don't mean anything or contradict each other and call it a dress code. I could have worn my frock coat complete with ceremonial sword."
She cracked a grin, a full, unreserved one, and he was unbecomingly thrilled to have been its source.
"You look fine," she said. "Let's go."
***

All eyes were on Dani as she entered the party, but for once it wasn't because of her status as the jilted wife of the inexplicably popular Professor Vincent Ricci, who had left her for a twenty-year-old named Berkeley.
Or it wasn't only because of that. To be fair, it probably started because of that. Vince and Berkeley coming out as a couple a hot minute after Berkeley dropped out of school was the biggest news to hit the department since the dean's office repossessed the humanities' faculty lounge and gave it to the economists for an econometrics lab. Somehow, even though Vince had undergone an ethics investigation because of concerns he'd broken the rule about, oh, not dating students—and had been cleared because there was no proof he and Berkeley had gotten together until after Berkeley dropped out—Dani seemed to be the subject of most of the departmental gossip. Poor, discarded Dani, replaced by a younger, tauter model.
And now Vince and Berkeley were back from their Spanish adventure for a couple of weeks. What would Dani do? What would she say? How would she act?
But it only took a second, once everyone got a load of Max, for the narrative to shift.
Because Max, in his dukeish casual, looked a lot more than "fine," especially in contrast to the men in this crowd, who were "dressed up" in their Dockers and no-iron shirts that actually needed ironing. Max's tallness and slimness was accentuated by the tailored blue suit he was wearing like a second skin. Like it was casual. With his icy-blue eyes, his dirty-blond hair styled almost in a pompadour, and his angular face, he looked like that Swedish actor from that vampire show, all sharp edges and cool cobalt.
He must have noticed everyone's attention—it was hard not to, as this group was not subtle. He laid his palm on her lower back. He didn't press or push, just stood serenely while everyone gaped at them. In any other circumstance, she would have shaken him off, but she performed a quick mental cost-benefit analysis and decided that having a baron get a little handsy wasn't the worst look right now. After a few beats of silence, of posing, really, while everyone stared, he said, "Shall we go to the bar?"
Dani made eye contact with Sinéad, her closest friend in the department. Sinéad and Dani had been hired a year apart and had leaned on each other a lot in the early going, forming a kind of
battlefield bond that had never gone away even as they'd found their stride and gotten busy with research and relationships.
So busy, apparently, that Dani hadn't laid eyes on Sinéad all semester outside of departmental meetings. How had that happened?
Dani had been working a lot lately, but still. They used to go for drinks almost weekly. Before Vince. Dani thought back to the list she kept on her phone, which she'd reviewed earlier, in her office, in preparation for having to see Vince. Things I Will Never Again Do for a Man. Not that there was any danger of falling back in with Vince. Dani was done with Vince. Or would be once she finally managed to divorce his ass. But she believed in owning her mistakes, confronting her lapses in judgment. That was the only way to make sure they never happened again. Hence the list. She'd made it the day after Vince's affair with Berkeley came to light. In the beginning, she'd looked at it every day. Now it was more about future-proofing
herself. It reminded her, in stark black and white, what her priorities weregoing to be in the post-Vince world.
As it related to Sinéad, the relevant list item was #8: Neglect my friends.
Sinéad raised her eyebrows in a way that was meant to communicate Holy shit, girl.
Dani raised hers back and hitched her head slightly to send a return message: Meet us at the bar. Here was the perfect opportunity to work on that number.
Max's hand stayed resting lightly on Dani's back as they made their way through the crowded room. Dani nodded and said a few hellos to colleagues as they passed but didn't stop. Better to let them wonder.
At the bar, she ordered a Diet Coke, and Max tried to order a negroni. When the bartender looked at him blankly, he shifted gears effortlessly. "On second thought, I think I'd prefer a glass of red wine."
"Hel-lo." Sinéad sidled up to the bar, let her gaze roam Dani, and pressed a hand to her heart. "Don't you look smashing?"
"You, too." She really did. She was wearing a blue suit—like Max, except hers was tailored to hug her curves and she wore it with an open-necked white silk blouse and red stilettos.
Dani kept the introductions brief. "Max, Sinéad. Sinéad, Max." She was probably supposed to introduce Max as "His Honorable Lord Baron McSnootypants" or something, but she was not going to do that.
After Sinéad ordered a Guinness, she flicked Max's blue-black-and-red-checked tie. "Burberry?"
Max raised an eyebrow. He probably wasn't used to people touching his clothes. Or commenting on labels. Both were no doubt exceedingly low-class.
"Indeed." He reached over and flicked the cross-body briefcase Sinéad wore. "Vuitton?"
Dani chuckled. These two dandies were perfect for each other.
"Knockoff," Sinéad said cheerfully. "I'll be paying off my student loans until I die."
"Ah, yes, the puzzling American tradition of bankrupting its young people before they even begin their careers."
"Hang on." Sinéad pointed at Max. "You're the duke. The Depraved Duke."
"Baron, actually," Max said. Dani noticed he didn't dispute the "depraved" part.
"Whatever," Sinéad said. "You're the guy who was engaged to the princess that Vince Ricci's cousin is marrying."
"I . . . might be?" Max looked genuinely confused.
"Vince Ricci being Dani's ex-husband," Sinéad added.
"Not until he signs the papers," Dani said with exaggeratedly artificial cheeriness. She turned to Max, who didn't know the whole story. "You probably didn't know that my husband is Leo's second cousin."
"I had no idea."
"Yes. I met Leo and Gabby because I married into the Ricci family."
"Vince being the cradle-robbing professor in search of a helpmeet," Max said.
Sinéad cracked up. "That'd be the one. And wow, helpmeet. That's not a word you see much anymore."
"I thought you and Leo were neighbors?" Max asked Dani.
"We were. I'd met Leo and Gabby a few times at holidays when the whole Ricci clan was together, but I didn't know them well. When their parents died, there happened to be an opening for a superintendent in my building that I thought Leo would be perfect for. I'd heard they were looking for a place, so I reached out to let them know—despite
Vince being a dickhead, his family was decent. And even though I'm in the process of marrying out of the Ricci family, I'm keeping Leo and Gabby."
Sinéad had been leaning against the bar, but suddenly her posture changed. "Incoming."
Dani looked over her shoulder, took stock, and whispered to Max, "The guy on his way over here is the chair of the department. We care about his inner life. His inner life needs to grant me tenure." Max made a vague noise of acknowledgment.
"Also, FYI, and don't look because they're looking at you," Sinéad whispered, "but Vince and Berkeley have arrived."
"Berkeley," Max echoed. "What an . . . unusual name for a helpmeet."
Dani ignored Max and concentrated on Vince, as much as she didn't like doing that. She was over Vince. Having moved rapidly through the shock, hurt, and anger phases of the breakup, she was currently in the midst of the questioning-one's-own-judgment phase. Hence the obsessive list-checking. But being over him didn't mean she was looking forward to seeing him. "I'm not ready for this," she muttered.
"Sure you are," Max said as the bartender set their drinks on the bar. He put a fifty-dollar bill in the tip jar—fifty dollars!
She really, really wasn't ready for this. Her heart started beating rapidly. Vince sitting on the sofa across from her in their mediator's office was one thing—and the last session had been months ago—but to see him here, at a work party with everyone watching to see how she was going to act, was another.
Before picking up his own drink, Max rolled his shoulders and straightened his spine as if preparing for battle. "This is going to be fun."
That was not the word Dani would have used.
Max winked and said, under his breath, "Here we go."
She braced herself and turned to face the room.
"Dani, Sinéad," her chair said as he approached, "happy holidays."
"And to you." Dani's voice was a little shaky but hopefully not so much that anyone would notice. "James, this is Maximillian von Hansburg. Max, this is James Dodge, the chair of the English department."
The men shook hands, and Sinéad piped up, "Max is a baron." She said it loudly enough that she drew the attention of a few of their colleagues clustered near the bar.
Max waved away Sinéad's declaration even as he lifted his chin. He positively oozed baron-ness.
"How do you know our Dani?" James inquired.
Our Dani. That was rich coming from the guy who had asked her to plan the retirement party for the department's longtime secretary because "you have such good taste." Spoiler alert: "You have such good taste" coming from James meant, "You are young and female." Give her tenure and maybe "our Dani" would annoy her less.
"Our best friends are getting married later this year," Max said, leaving unspoken the part where his best friend was a princess and the wedding was a royal one.
"Are they? And what brings you to New York so close to the holidays?"
"I'm doing some archival research on an Eldovian woman who spent part of World War II in New York."
He was? Why hadn't he led with that when he'd been texting her? Dani had been imagining Max in town for—well, she wasn't even sure. Having his own personal Christmas spectacular as he banged his way through the Rockettes?
"She was at Cambridge—also my alma mater," Max went on. "Cambridge, as you may know, was spared in the bombing campaigns because Hitler planned to use it as a second headquarters when he took over Britain. It's long been known that she welcomed German Jewish children who were part of the Kindertransport into her flat and that she went on to set up a network of students and professors who did the same. She's something of a local folk hero at home. But it seems she spent some time in New York in 1943 that wasn't previously known about. I'm here trying to get to the bottom of it."
Dani had to prop her fist under her jaw and hope she was striking a thoughtful pose instead of an "I am propping up my jaw because it keeps dropping" pose. But at least it was better than freaking out about seeing Vince.
"Fascinating," James said, and he actually seemed to mean it. "What university are you at?"
"Oh, I'm purely an amateur," Max said with a dismissive wave and a self-deprecating shake of his head. Dani was pretty sure, given the way his head stayed turned a beat too long, that the gesture was designed to let him survey the room. "Too busy with matters of state and diplomacy these days to muck about in academia," he added.
Dani had to bite back a smile. That might be true if the "diplomacy" he was talking about was happening between the sheets. She had read one tabloid account of him "romancing" the US ambassador to the Vatican, who, while single, was supposed to be a devout Catholic.
"Your Professor Martinez has been advising me," Max went on. "She's been a tremendous help, not just as a local contact, but intellectually." Max returned his hand to her back and beamed down at her. All she could do was goggle at him. "Shall we find somewhere to sit?" he inquired mildly.
"Sure."
That had the effect of dismissing James, who moved on to chat with someone else, pulling Sinéad along with him. Alone again, Max said to Dani, "May I buy you another drink before we sit? Perhaps something stronger?"
"Stronger is for after the party," she said quietly. She rarely drank at these things, wanting to keep her wits about her. "Stronger is for after I get tenure."
She let him lead her to an unoccupied sofa, feeling the attention of everyone in the room. He whispered in her ear as they went, "Vince and—sorry, what was her name? Sacramento?—looked like they were on their way over to the bar, so that was a little extraction. Let's let them wonder a little longer who your devastatingly handsome companion is."
Dani rolled her eyes as Max sat too close to her—he smelled like peppery pine—but she was smiling over the Sacramento joke, which was uncharitable. "Was that all true? I thought your degree was fake—a means of postponing your engagement to Marie."
"The degree was real. The length of time it took to complete was, perhaps, exaggerated." He took a sip of wine, unperturbed by her questioning or by the palpable sensation of everyone watching them. "And there really is an Eldovian folk heroine who spent time in Cambridge."
"What was her name?" She was suspicious, though she wasn't sure why.
"Karina Klein," he said without hesitation.
"Never heard of her."
"I don't think anyone has outside of Eldovia."
"Tell me more."
He did. For the next ten minutes, she forgot she was at a faculty party as Max launched into a tale of heroism and sacrifice. "When I was still at Cambridge 'finishing my thesis,' I found an issue of the student newspaper from Karina's college from before the end of the Michaelmas term in 1943. It was a roundup of sorts of where everyone was spending the holidays, and Karina mentioned a trip to New York. I wondered then, and I still do, why in 1943, a young, single woman—a student—would flit off to New York for her Christmas holidays."
"So you are truly here to investigate!"
"God, no. I'm here for a huge party and to avoid my family."
That was both unsurprising and oddly disappointing. "Whatare you—"
"Hello, Dani."
Oh, shit. She'd forgotten about Vince.
She'd forgotten about Vince. Sending a message to Vince was half the point of being here tonight. She'd been planning to pretend that she no longer gave him any real estate in her brain. But thanks to Max and his storytelling abilities, it had actually been true for a while. How remarkable.
Vince was wearing his own khaki pants and button-down, though he had a sports coat over his—he'd always been better dressed than everyone else. Berkeley, clinging to his arm, looked stunning in a white jumpsuit with a plunging neckline.
"Vince, Berkeley, meet my friend Max."
"The duke, right?" Berkeley said, eyes wide as Max stood to greet them.
"Alas, a mere baron," Max corrected. Wow, the Depraved Duke nickname must have everyone thinking Max was actually a duke.
"What brings you to New York?" Vince asked.
"Just visiting," Max said smoothly, sitting back down and sliding his arm around Dani's shoulder in such a way that implied it was her he was visiting. "New York at Christmastime has so much to recommend it."
Dani had the sudden notion that Max's answer to the "What brings you to New York?" question was changing based on whatever answer would paint her in the most flattering light. With her departmental chair, it had been an intellectual mystery Dani was helping him solve. With her shitty ex, it was her.
He was turning up his accent, too, in a way that seemed to accentuate his fanciness. Dani had had a crash course in all things Eldovian when Leo had been swept off his feet by Princess Marie and had learned that both German and French were official languages. If pressed, Dani would have said Max tended toward French over German, with perhaps a bit of British thrown in, perhaps owing to his years at Cambridge. But really, his accent sounded vaguely European-posh, like Madonna in her "putting on airs" phase.
"Speaking of visits," Max went on, "I thought I might pay one to the bar." He stood again. "Allow me to bring a round of drinks. What can I get you, Berkeley? Wine? Beer?"
While Berkeley was old enough to drink in Europe, she wasn't here. Dani glanced at Vince, though she wasn't sure why. It wasn't like he was going to jump in and say something to save Berkeley. So Dani did it, reminding herself that the girl was just that—a girl. A girl who was very likely to grow up and realize that all she had gotten in exchange for quitting college was custody of an entitled man-child who could talk a good game.
Dani pasted on a smile, held up her empty glass, and said, "I think Berkeley's a Diet Coke aficionado like I am, aren't you, Berkeley?"
"Yes!" Berkeley exclaimed.
"But I think maybe it's time for us to go?" She turned to Max and raised her eyebrows. They had accomplished more than she had dared dream this morning. Not only had she seen Vince and not died, she had come out looking good, thanks, amazingly, to Max, the perfect party accessory. This was as good a moment as any to flounce off.
Max held out a hand to help her up. "Your wish is my command." Once she was up, the hand settled on her back again. It was starting to feel normal. Dani widened her fake smile, said goodbye to Vince and Berkeley, and let herself be escorted off by a baron who looked like a movie star.
As if by silent agreement, they did not speak as Max collected their coats and held hers for her as they strolled out of the building. It was snowing big, fat, fluffy flakes, and with each step they took, Dani started to feel a little lighter. Not only was the dreaded party over, so was the semester. A week of grading—and she could do that at home in her pajamas—and she was free until January.
"Well," Max said when they were safely out on the sidewalk. "That was . . ." He quirked a brow. "Bracing."
Max. Her surprising secret weapon. He had pitched everything perfectly in there—his words, his accent, his outfit, his posture, all of it.
He wasn't wearing a hat, and the snow was accumulating in his hair, laying down an extra glazing on the cool blond. With the streetlights glinting off him, he looked like an ice prince. If she called him that, he'd probably say, "Ice baron, actually."
She was getting that delicious "Christmas break" feeling, that sense of another term under her belt, a pause in the grind of regular obligations. Dani loved Christmas. Or at least she used to. Last year's, her first with Vince gone, had been bleak. And Leo and Gabby had traveled to Eldovia for the holidays, leaving her alone with her sadness. Dani hadn't gotten the "Christmas break" feeling last year. She was glad it was back.
"I have a car," Max said, pulling out his phone. "Can I drop you at home?"
"No," she said, not wanting to let go of her Christmas buzz, wanting to ride this crest of joy a little longer. Joy. It had been a while. "Let's go for negronis."