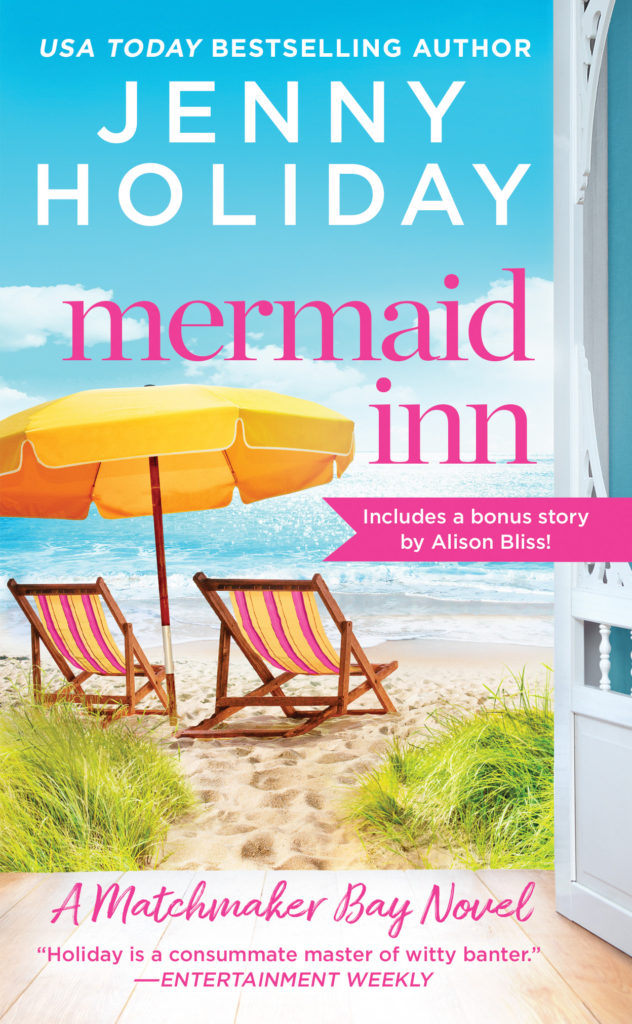 She's back in town, and he wants a second chance.
Eve Abbott has a problem—actually, make that a lot of problems. And they're all going to get worse the moment her toes hit the sand in Matchmaker Bay. Once a blissful summer escape, now the tiny town just reminds Eve of loss. Inheriting her aunt's beloved Mermaid Inn is the only reason Eve is coming back. She's definitely not ready to handle nosy neighbors, extensive renovations, or the discovery that a certain heartbreaker still lives down the street…
Police Chief Sawyer Collins always does the right thing, even when it costs him everything. Like Evie. He's spent the past ten years trying to forget her—to forget how right she felt in his arms, to forget the pain in her eyes the day she left. The last thing he expects is to see her back in town or to find that the spark between them is as strong as ever. Sawyer knows this is his only chance to prove that his feelings have always been real… before Eve turns tail and leaves for good.
Includes the bonus novella Meant to Be by Alison Bliss!
Buy the e-book
Amazon | Apple Books | Barnes & Noble | Kobo | Google Play
Buy the paperback
The Ripped Bodice | Love's Sweet Arrow | Indie Bound | Amazon | Barnes & Noble | Books-a-Million | Chapters Indigo | Walmart | Target
Buy the downloadable audiobook
(also available in audio CD from some retailers)
Amazon | Audible | Apple Books | Kobo | Google | Libro.fm | Spotify (free if you subscribe!)
Foreign editions
German (coming soon!)
Chapter One
Great-Aunt Lucille always used to say that life is twistier than the Miskwimin River, and Eve Abbott had always filed that adage away as cute but ultimately meaningless. No one's life was twistier than the Miskwimin River. It made so many zigs and zags on its way to its outlet in Moonflower Bay that tourists were always getting lost. Locals, too, if they'd had one too many at Lawson's Lager House. One second the river was behind you, then bam, there it would be in front of you, and you'd be scratching your head and thinking, "Didn't I just cross that sucker?"
So basically, you'd have to be living in a soap opera for your life to be twistier than the Miskwimin River. And Eve's life was most decidedly not a soap opera. If a water metaphor had to be made, it was a nice, linear canal. A manmade canal—a woman-made canal, thank you very much— that stretched out in a gloriously straight line as far as the eye could see. Eve's life was hard won. Predictable. Not twisty. Not even gently curved.
Lucille's life, though, had been twisty, and she had usually been the cause of the twists. For example, there was that time Eve's father—Lucille's nephew—idly suggested she start thinking about retiring, about selling the inn and moving to an old-folks home, because he thought she was "slowing down," and she'd responded by going out and getting her first-ever driver's license at age seventy-two.
Lucille must have thought Eve's life needed more twists. Because a few days ago, Eve had been contentedly living her life in Toronto, a plant-lady librarian living the dream, and today she was standing on the roof of the Mermaid Inn in Moonflower Bay because she owned it.
Eve could still see the eight little words that had upended her life so utterly: "Last Will and Testament of Lucille Frances Abbott."
Eve sighed. Well, at least she had found the source of her immediate problem—her immediate problem being that it had been raining inside when she arrived yesterday. There was a big bare spot on the tarred roof.
When Eve had gotten to town last night, she'd been glad about the rain—the outdoor kind—because it meant she hadn't had to interact with anyone besides Jason Sims, the lawyer who'd handled Lucille's estate. Eve didn't know Jason. He must have moved to town sometime in the past ten years. As he'd handed her the keys, he'd warned her that the Mermaid was a little the worse for wear. "Lucille couldn't keep up with it toward the end," he'd said, his words a dagger to Eve's guilty heart. Eve's determination never to set foot in Moonflower Bay again after that summer ten years ago had been matched by Lucille's devotion to the place. That meant Eve had only seen her beloved great-aunt a couple of times a year over the last decade, usually on holidays when Eve's father had driven to pick up Lucille and bring her to Toronto for the day.
Eve had spent the last decade telling herself that she could be a devoted great-niece from afar. She sent presents, and she and Lucille talked on the phone a lot. She knew things—she'd thought.
But Lucille hadn't said anything about having trouble maintaining the inn.
She hadn't said anything about her heart condition, either.
Or about leaving the Mermaid to Eve in her freaking will.
Okay, Eve knew nothing.
Except that she needed a plumber, stat. Or a roofer. Or. . . whatever kind of person you called when it was raining inside.
She started making a mental list. She was a librarian, and categorizing things came naturally.
Either that or her fondness for list making was about making her feel more in control of what remained, essentially, uncontrollable. Potato-potahto.
People to Call
1. Plumber.
2. Roofer.
Also, the most important one:
3. Real estate agent.
Preferably one from Grand View, the next town over, because she didn't need her business spread all over town. Everyone was always up in each other's business here. She wasn't getting mixed up in any of that. She was going to be in and out as quickly and efficiently as possible. Like a spy.
Or, you know, a scaredy-cat.
She pushed down a niggle of guilt at the idea of selling the place that had been Lucille's pride and joy, the place that had been Eve's own beloved summer home for so many years
She told herself she wasn't feeling guilty so much as overwhelmed. Lucille was dead, and Eve was back in Moonflower Bay.
And it was grossly humid. Way too hot for this early in the morning. Way too hot for any time of day for a town on the shores of a massive lake. Time to get back inside to the air conditioning
Okay, well, one step at a time. Literally, because the first thing she needed to do was get off the roof. She made her way to the rear edge, intending to climb down the ladder she'd left propped against the back of the building, and…what the hell?
She squinted down at the parking lot, which was empty except for her rental car. The ladder was gone. Not fallen over. Gone. Like, not in sight.
She reached into her pocket. It was empty.
She peered over the edge of the roof again. Not that she had expected it to magically materialize, but there was still no ladder in sight.
What was in sight was her phone—which she'd left on the hood of the car. "Crap." She'd pulled it out to take some photos of a section of the inn's exterior brick. It looked bad enough that she should probably get it repointed before listing the place.
4. Bricklayer. Mason? Whatever: brick person.
But the to-do list aside, this was extremely not good. She was stuck on the roof with no way to call for help.
Except, was that . . . ?
"Mr. Andersen?" she called.
So much for lying low. Once Karl Andersen, the owner of Lakeside Hardware, realized she was here, so would the rest of the town. Back in the day, his store had pedaled more hearsay than hardware, functioning as a sort of unofficial town hall and as ground zero for a pack of meddling town elders. Some towns had beauty parlor–based gossip networks; Moonflower Bay had the hardware store.
Karl hadn't heard her. He had to be in his eighties by now. She upped the volume. "Mr. Andersen!"
He looked around exaggeratedly.
"Up here, Mr. Andersen! On the roof of the Mermaid!"
Tilting his head back, he regarded her silently. She was expecting surprise, incredulity, but he just smiled. "Eve Abbott. I heard you were back in town."
You did?
How was that possible? She'd told no one she was coming—she didn't have any friends here anymore. But perhaps she had overestimated Jason Sims's commitment to client confidentiality. And she'd just been thinking about how robust the town gossip network was.
She braced herself for questions. What was she doing here? Where had she been all these years? Why had she stopped visiting Lucille? What kind of monster great-niece was she?
But he only said, "What do you think of the new square? You should be able to get a good bird's-eye view from up there."
She glanced down. Moonflower Bay's historic main street ran perpendicular from the bay for about four blocks before it widened into an open green space the town used for a weekly farmers' market and for its two big annual festivals.
"It, ah, looks great." It looked the same as it ever had. And she knew this view. Every time one of the top-floor front rooms was vacant, she used to sit on its balcony and read.
Or sit on the balcony and talk for hours on end with He Who Shall Not Be Named.
Or sit and watch the Mermaid Parade from up high, which they also used to do.
Except that the last year she'd watched alone from the sidelines, and he'd turned out to be in it.
But no thinking about the Mermaid Parade. Time to lock the marching, waving mer-people back in the mental vault. Which probably wasn't healthy, but whatever. It had worked pretty well for her for the past decade.
"That's a new gazebo," Karl called. "The old one had been painted over so many times, it would no longer hold on to a coat of paint for more than a season."
He was right. The old gazebo used to be a magnet for love graffiti. "Jake + Kerrie 4EVR," that kind of thing. It's possible there was once a "He Who Shall Not Be Named loves Evie" on that gazebo, too, and it had been carved, not painted. That way, the carver had proclaimed, it would be "more permanent." Eve, embarrassed by how thrilled she'd been, had teasingly pointed out that permanent wasn't a concept you could have more or less of. It just was.
Or wasn't, as it turned out.
"Town council was deadlocked over what color to paint it." Mr. Andersen was still going on about the gazebo. "There was a pink faction, if you can imagine it. They said it was 'raspberry.'" She could hear the air quotes. "It was supposed to be an homage to the festival. But it was pink. Bubble gum pink. Raspberries are red, I kept telling them."
Right. "Mr. Andersen, do you think you could—"
"You see Jake Ramsey's boat on its way in?"
That gave her pause. The concept of Jake Ramsey—he of "Jake + Kerrie 4EVR"—on a fishing boat was not unusual, but ten years ago he would have been on a fishing boat with his dad. The boat would have been referred to as Arthur Ramsey's boat.
But time marched on, didn't it? She'd left everything and everyone in this town behind when she'd fled on that horrible Labor Day weekend ten years ago. Arthur had probably retired. For all she knew, Jake and Kerrie had broken up, too, though that seemed impossible. If there was any couple in the world that was permanent, it was them.
Jake's fate would have to remain a mystery. If she asked a follow-up question, Karl would answer it. He seemed to find nothing unusual about carrying on a mundane conversation with her, a person he hadn't seen in a decade, while he was on the ground and she was on a roof three stories up.
"I don't see Jake. Mr. Andersen, I need some help. I'm stuck up here. My ladder seems to have gone missing."
"Missing?" He looked around, again in a comically exaggerated fashion. "How can a ladder go missing?"
"I don't know. I thought maybe it blew over, but I don't see it at all. I guess someone took it?"
"Not in Moonflower Bay."
That was the problem with this town. Everyone acted like it was the magical land of Oz, except with mermaids instead of Munchkins. Eve didn't bother to rein in her eye rolling since Karl couldn't see her eyes from down there. "Regardless, I had a ladder, and now I don't. I'm stuck. Any chance I could borrow one from the store?"
"You're awfully high up there, Eve Abbott. You're going to need a serious extension ladder to get down."
She nodded enthusiastically. "I would be in your debt."
"I'd better call the fire department."
"Oh, don't do that!" She had visions of Moonflower Bay's single engine pulling up to the Mermaid, sirens blaring.
That would be the end of her get-in-and-get-the-hell-out of-Dodge plan. As it was, she'd been spotted, and Karl's gossip network would work fast. "They're volunteers! They don't need to be pulled from whatever they're doing when a ladder will—"
"I'll call the police chief," he said, more to himself than to her, as he turned away. "Chief Collins will know what to do."
Chief Collins?
Yes. She could totally see that being a thing.
But also: no. A thousand times no. Eight hundred million times no. In addition to the fact that she was wearing yogapants so old and ratty that they were almost transparent anda T-shirt that said, "Keep Calm and Ask A Librarian," therewas also the part where she hadn't seen He Who Shall NotBe Named for ten years.
Also, you know, the part where the last time she had seen He Who Shall Not Be Named, he'd had his tongue down Jeannie Wilkerson's throat on the Mermaid Christmas float in the parade.
Her hands started shaking enough that she probably should be concerned about her ability to climb down a ladder, but no way was she letting Karl call the police. She would rather have the actual Voldemort rescue her.
"Don't call . . . him!" She couldn't say his name, even in an emergency like this. "Maybe we do need the fire engine!" She ran to the front of the building, tracking Karl's progress down the sidewalk toward his store, which was on the other side of Main Street. "Mr. Andersen! You really don't need to bother the police. I'll figure something out!" She would rappel down this building with a rope fashioned from her own clothing if she had to.
"Back in a jiff!" Karl called as he disappeared into his store.
Alone again, she surveyed the town she used to love. The inn was four blocks up from the water, but she was high enough that she could see both town beaches, the closer of the two with its pier and red-and-white lighthouse.
She and He Who Shall Not Be Named used to sneak into the decommissioned lighthouse and climb to the top at sunset. They would watch the sun set from the pier first, then make a game of scrambling up the old, rickety stairs. If they were fast enough, they could see a slice of a "second" sunset. They usually didn't make it when they had his sister, Clara, with them—which they often did. Clara's little legs had been too short. But it was always fun to try, and the three of them would arrive at the top laughing and panting.
She had forgotten about that.
It should have been a good memory, but thanks to him it was tainted. She'd lost the lighthouse when she lost him. She'd had to lock it in the vault with the mermaids.
A frisson of anger made her shiver, even in the oppressive heat.
Interesting. Her usual method for dealing with thoughts of He Who Shall Not Be Named was to . . . not think them. Shove them away. She didn't even allow herself to think his name, for God's sake.
But where had that gotten her? Standing on a roof, literally shaking she was so afraid to see him.
But why? He was the villain in this story.
And to her great surprise, now that she was here, she was spectacularly angry at him.
She smiled. Anger was unfamiliar, but she could work with it. If she was stuck in this town for a little bit, anger was better than fear. Anger was armor.
So she looked down again at the town she used to love and waited for the boy she used to love to come and rescue her. And when he did, she would call him by his name.
Sawyer Collins.
* * *
When Sawyer got the call that someone was stuck on a roof on Main Street, he tried to send his deputy chief to deal with it, but Karl Andersen wasn't having it.
"Son, this is a job for the chief."
"It's probably a job for the fire department," he countered. "What building is it?" Main Street was lined with brick buildings that made a smooth facade against the street, but they were of differing heights, ranging from two to four stories.
"Not sure exactly."
"You're not sure? Didn't you see this person? Isn't that why you called?"
"Come see for yourself. It's hard to explain."
"I'm going to send Deputy Chief Powell." Whatever it was, Olivia would sort it out. Sawyer was exhausted after being on duty all night. It had rained steadily, which usually would have meant a calmer shift, but last night had also been a full moon, which in Moonflower Bay was big business. His sister, Clara, was working this morning, which meant the house was empty. He planned to sleep all day.
"Sawyer," Karl said in his I'm-your-boss tone. Never mind that Sawyer was twenty-eight years old and hadn't worked at the hardware store since he was a teenager. "Just come yourself." He hung up.
Sawyer pushed back from his desk with a growl of frustration.
"What's up, Chief?" Olivia, his newish deputy, looked up from a pile of paperwork.
He hesitated. If he told Olivia that Karl had called him directly and was insisting that he specifically answer a call, she would kick up a stink. She was trying to professionalize their small, four-person force. To get people to call the station and not Sawyer personally. To get them to accept that a woman could be as good a cop as a man. He agreed with her on all fronts. But he was so tired—summer evenings in the beach town always kept them on their toes, but with last night's full moon they'd had six drunk and disorderly charges. Right now, doing Karl's bidding was easier than doing battle with him—and was the fastest path home to a soft bed.
"Someone's stuck on a roof on Main Street. I have to run some errands anyway," he said to Olivia—lied to Olivia. "I'll check it out and go home from there."
"Sounds good. Call me if you need me."
When he got out of the cruiser downtown, he scanned the roofs of the buildings on both sides of Main. No sign of anything out of the ordinary.
The bells on the door of Andersen's Lakeside Hardware jingled, and its proprietor appeared. "Hey, Chief. Let me show you to your damsel."
"Deputy Chief Powell could have handled this," Sawyer said, preparing a speech on how damsels could rescue damsels. Or something.
Karl ignored him as he headed for the passageway on the far side of Lawson's Lager House. "Beautiful day, isn't it?"
It was not a beautiful day. It was sweltering, muggy, and overcast. "It's going to rain some more," Sawyer countered as he followed.
Most of the buildings on Main Street were flush against each other, but there was a narrow passageway between Lawson's and Pie with Pearl that functioned as a shortcut from Main Street to the parking lots behind the businesses. It also functioned as a spot for covert activities of all sorts, as evidenced by the condoms and cigarette butts that littered the gravel beneath his feet—more indications that last night had been an especially rowdy one.
"Nope," Karl said. "It'll clear up. It's gonna be one of those picture-postcard days that remind you how lucky you are to be living in the greatest town in Canada."
Sawyer rolled his eyes, but only because Karl, who was leading the way through the narrow passage, couldn't see him. He reminded himself that Karl, though prone to hyperbole, especially in his self-appointed role as chief town meddler, wasn't wrong. Sawyer had gone through his phases of hating Moonflower Bay. Well, okay, one big phase. But his sense of feeling trapped by it had faded over the years. Anyway, it had never been the town doing thetrapping. He had dear old Dad to thank for that.
Some days, when his job ground him down, Sawyer got cranky. But this little town on the shores of Lake Huron was home. Its residents, even the sometimes-maddening ones like Karl Andersen, were his responsibility. The town itself was his responsibility—he made a mental note to come back and clean up the passageway after he'd caught some shut-eye.
They emerged into the parking lot behind the bar. It was owned by his buddy Ben Lawson, and Sawyer idly wondered if he could go inside after this call and stick his mouth under one of the taps. Yes, it was eight in the morning, but he'd been on all night, so technically it was happy hour for him.
"She's up there." Karl pointed.
"On Lucille's building?" Sawyer frowned. He'd had some concerns about the building standing empty in the week since Lucille's death. Lucille had been a collector of antiques. She had a lot of junk, too, but there was some valuable stuff mixed in among the mermaid knickknacks. The place didn't have an alarm, and though he'd just been thinking what a great town this was, it had its share of the usual small-town problems, addiction and unemployment chief among them. That, combined with the tourists they attracted in the summer, had him keeping a closer eye on the inn. "I don't see anyone. How long ago did you spot the person?"
There was no answer. He looked around. Karl was gone. He looked back up at the roof, which still showed no signs of being populated. Dammit. Did he need to start worrying about Karl's mental state? The man seemed invincible, but he was eighty-seven and a widower who lived alone.
Still, Sawyer should probably make sure there wasn't actually anyone stuck on the roof. That was a long way up.
"Good morning!" he shouted. Karl had been right about the weather clearing up. The gray sky of earlier was fading, and the sun was starting to peek out from behind a cloud. "Moonflower Bay Police here. Is anyone up there?"
And then he knew. He knew. Before he saw her.
Like every good cop, Sawyer had learned to trust his instincts. He could puzzle out a crime based on not a lot of evidence. But this wasn't that. This was a deeper kind of knowing. This was his body leading the way. Or, more accurately, his body giving out on him. He sagged back against a car, not trusting his suddenly weak legs to keep him upright. Or to run away, which right then actually seemed like the sensible option. He opened his mouth to draw a breath, but nothing happened. He just stood there—sagged there—moving his mouth like a witless fish.
Then she stepped into view, and Sawyer's suffocation began.
The sun was fully out from behind its cloud now, and it backlit her. He had the absurd thought that it had come out from behind that cloud for the sole purpose of shining on her, like she was an angel who required illumination.
But if she was an angel, she was an avenging one.
It was Evie Abbott.
The only girl he'd ever loved.
A sudden, sharp pain in his chest added to the feeling that his body was shutting down.
When Sawyer thought about heartbreak, he remembered it less like breaking and more like emptying. Because when Evie had left town ten years ago—when he'd pushed her out of town—he hadn't experienced it like his heart breaking. It had been more like his heart draining. Like all the happiness and life inside him had flowed out like the river rushing toward the bay. He'd been a fish then, too, flopping around in an emptied tank until all that was left was the dry, scaly shell of something that had once been alive.
The upside, if there was one, was that once your heart was empty, it was empty. Smart Evie, Evie who valued accuracy and precision, once told him that there was no such thing as "more permanent." That night, the night he'd carved their names into the gazebo, into the town itself, felt closer to him now than last night's shift.
"There's no such thing as 'more permanent,' Sawyer," she'd teased. "That's like being kind of pregnant. You're either pregnant or you're not. A thing is either permanent or it's not."
A heart is either empty or it's not.
And his was empty.
He'd thought.
The great, gaping pain inside his chest suggested that he had been wrong. That there was a lot more damage left to be done. More emptying to endure.
And he very much feared that Evie Abbott was here to finish the job.
Buy the e-book
Amazon | Apple Books | Barnes & Noble | Kobo | Google Play
Buy the paperback
The Ripped Bodice | Love's Sweet Arrow | Indie Bound | Amazon | Barnes & Noble | Books-a-Million | Chapters Indigo | Walmart | Target
Buy the downloadable audiobook
(also available in audio CD from some retailers)
Amazon | Audible | Apple Books | Kobo | Google | Libro.fm | Spotify (free if you subscribe!)
Foreign editions
German (coming soon!)