Chicklets, today I visited the Thomas Fisher Rare Book Library at the University of Toronto and I must recommend this experience in the strongest possible terms. Long, long ago, in a past life, I was a graduate student at the University of Toronto for about a gazillion years, and not once did I darken the door of the Thomas Fisher Rare Book Library. I suppose my research was simply not rare enough to warrant it, me being tragically and inevitably attracted to the pedestrian and the mundane.
Well, my dears, the Thomas Fisher Rare Book Library contains, natch, rare books. Tall leather-bound volumes that one imagines being requisitioned as props for the next Harry Potter movie or secreted away by monks bent on preserving Classical civilization against the onslaught of the Dark Ages. Delicious enough, but it is the presentation that thrills the heart of a postmodern bibliophile. The building is one of those concrete monstrosities that the hipsters among us like to hold up as a pristine example of Brutalism. The students call it Fortress Book, and really, a concept so unpleasant as brutality mixed with the adamancy and rigidity implied by any sort of "ism" just doesn't add up to a spot that inspires a girl to curl up with a good book. But I digress.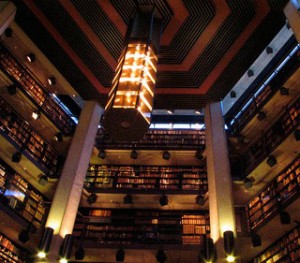 The Thomas Fisher Rare Book Library is a triangle, three walls around an open central atrium . It has three walls and they go up, up, up and are lined with books as far as a girl can see. It is dark, lit with a dim red lights that one imagines preserve the manuscripts in some fashion. One feels tiny standing at the bottom; certainly one feels the predictable emotions of being dwarfed by centuries of human progress, humbled by the insatiable impulse to attain and record knowledge, blah, blah, blah. Yes, it's predictable, but genuinely felt.
But, Chicklets—and here is where is gets interesting—one also feels as if one in a spaceship. The small central space, the walls with breaks in them for walkways, the dim red lights, the hush. And the people walking around solemnly with white gloves! My goodness, are they scrutinizing a poster from the Spanish Civil War or are they updating the specs on the power converter? One expects Captain Jean-Luc Picard's voice to come piping in over an intercom, announce that the Borg have spotted us, and demand that all power be directed to the warp engines immediately—make it so!
Or perhaps one has been set loose in outer space, in a probe of sorts. Perhaps one has only just awakened from a deep sleep and one dimly remembers the imminent destruction of Earth, a frantic race to preserve the best of its culture. Perhaps one has won a lottery, lucky girl, and so one is here, drifting though the void with Aristotle and Robespierre and the Ming Dynasty, eating freeze-dried chicken and waiting for rescue by benevolent higher beings. (Although this scenario must also imply that one has duties in the inevitable repopulation/preservation of the human race that one imagines necessarily accompanies the destruction of the earth, mustn't it? This is unpleasant to contemplate. An exception might be made should one discover that one of the white-gloved cataloguers is, in fact, Johnny Depp. But I digress.)
The delicious thrill of the unlikely juxtaposition of books and spaceships shall not be soon forgotten. And really, it's rather appropriate, don't you think, Chicklets? This is the heavy-handed part, where I say that these old old books are frontiers, just as outer space is a frontier. Questing, it's all the same really, and it's all terribly noble. Terribly, terribly noble. Make it so.
Posted by Jenny at 6:22 PM | Comments (1)