Coming March 9, 2020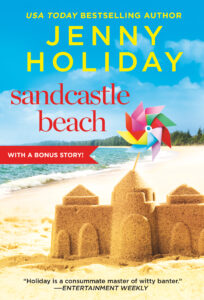 From the USA Today bestselling "master of witty banter" (Entertainment Weekly) comes a hilarious and heartwarming romance about two enemies whose feud turns red-hot.
Maya Mehta will do anything to save her tiny, beloved community theater. Put on musicals she hates? Check. Hire an arrogant former-pop-star-turned-actor? Done. But what Maya really needs to save her theater is Matchmaker Bay's new business grant. She's got some serious competition, though: Benjamin "Law" Lawson, local bar owner, Jerk Extraordinaire, and Maya's annoyingly hot arch nemesis. Let the games begin.
Law loves nothing more than getting under Maya's skin, and making those gorgeous eyes dance with irritation. But when he discovers the ex-pop star has a thing for Maya, too, Law decides he's done waiting in the wings-starting with a scorching-hot kiss. Turns out there's a thin line between hate and irresistible desire, and Maya and Law are really good at crossing it. But when things heat up, will they allow their long-standing feud to get in the way of their growing feelings?
Includes the bonus novella Once Upon a Bride!
Preorder the e-book
Amazon | Apple Books | Barnes & Noble | Kobo | Google
Preorder the paperback
The Ripped Bodice | Love's Sweet Arrow | Indie Bound | Amazon | Barnes & Noble | Books-a-Million | Chapters Indigo | Walmart | Target
Preorder the downloadable audio
(also available in audio CD at some retailers)
Amazon | Audible | Apple Books | Kobo | Google | Libro.fm | Spotify
Chapter One
Moonflower Bay, Ontario, was known to the legions of tourists who descended on it every summer for lots of things. Spectacular Lake Huron sunsets. The Raspberry Festival. A so-cute-it-made-your-teeth-hurt wishing tradition that involved throwing flowers into the lake under the light of a full moon. Really good pie.
But to its citizens, it was arguably more (in)famous for its band of meddling old people. They had their hands in everything. The town council. The chamber of commerce. The love lives of their neighbors—they weren't nicknamed "the matchmakers" for nothing.
So when they came bustling into the town's theater company one August afternoon to inform its artistic director, Maya Mehta, that she had been elected queen of next weekend's Mermaid Parade, Maya should not have been surprised. This happened every year, after all.
Usually she could manufacture some enthusiasm, but this year they were interrupting a long and painful accounting session in which she was trying to see a way forward through the forest of red ink she was lost in.
There was nothing like impending financial doom to put a damper on being crowned mermaid queen.
"Hi," she said warily as Pearl, Art, Eiko, and Karl came strolling into her office off the theater's lobby. She minimized QuickBooks on her computer like she'd been caught watching porn at work. As the old folks filed into the small space, she tried to casually gather up the papers scattered on her desk. It wasn't as if the invoices themselves telegraphed I have no money to pay these! but still. You could never be too careful with this group of meddlers.
"What's up?" she asked, as if she didn't already know. Benjamin Lawson had struck again. You couldn't even give him points for creativity. This was, what? The fourth year running she'd been elected mermaid queen thanks to his machinations?
"Congratulations!" Eiko trilled, waving a sparkly tiara.
"Ms. Maya Mehta," Karl said with great solemnity, "As the executive committee of the Moonflower Bay town council, it is our pleasure to coronate you this year's mermaid queen."
"Wow. What a shock."
"There actually was a little surge of support for another candidate this year," Pearl said.
Really? "Who?"
"I can't say," Pearl said. "Election integrity demands confidentiality."
"Of course it does." Maya refrained from rolling her eyes, but only just.
Eiko shook the tiara at Maya. Maya sighed and bowed her head, and in so doing noticed that although she'd scooped up most of the paperwork on her desk, yesterday's letter from the Canada Council for the Arts was still lying on the far edge. The one that said, "DearMs. Mehta, we regret to inform you . . . " The one that might as well have said, "Neener neener, no grant for you."
After Eiko crowned her, Maya tried to subtly grab the letter, but it was just out of her reach. And Art was standing right next to it. Shoot. She needed a distraction.
"You know what?" she exclaimed, successfully drawing everyone's attention. "I want the trident. Why does the king get the trident and the queen gets nothing of actual use? Like, he can raise the minions of the sea—or, I guess, the lake—with his mighty trident and she can do what? Wave and look pretty?"
That gave them pause. There was a literal pause, in fact, a long one, while they absorbed her complaint. Pearl rebounded first. "You know what? She makes a point."
"She was the one who got us to expand the bachelor auction to include bachelorettes, and that was a huge success," Eiko said.
"We'll get you the trident," Karl said.
Disarmed, Maya blinked rapidly. That was the thing about the old folks. You had to be careful when you were trying to stand up to them. Sometimes they would just agree with you, which would seem like a victory, but before you knew it, you'd find yourself the chairperson of the town bachelor/ette auction. Or they'd award you custody of the mer-king's trident. "Who's king this year?"
"Jordan Riley," Pearl said.
"Really?" That was a new twist. "He doesn't seem like the type." Either the type to be interested or the type people would think to nominate. The auto mechanic was nice enough but a bit mysterious.
"His sister is trying to get him to be more social, so she encouraged people to vote for him," Eiko said.
"So what you're saying is there was election interference on both sides of the ballot this year. I don't even know why you have me give the crown back every year. You should let me keep it."
"We have to let democracy take its course," Karl said.
"I'm not sure what part of Benjamin Lawson giving free drinks to people who vote for me sounds like democracy to you, but okay."
"Here's your tail, hon." Eiko handed over the green-and-blue-sequined creation. "The nice thing about your dynasty is we haven't had to get this altered for years."
Art, the least vocal of the quartet of town meddlers, patted her sympathetically on the shoulder. "Long may you reign."
Maya walked them out and reminded herself that as annoying as Moonflower Bay's meddling old folks could be, she loved them. Her affection for her hometown and its quirky residents was the reason she'd come back after college to start the theater company. It wasn't their fault her dream was withering on the vine—or that Benjamin Lawson, her nemesis, was so steadfastly committed to throwing the mermaid election in her "favor." The old folks were just keeping the town traditions alive, and its traditions were part of what made this town great.
"What's going on here?" Karl pointed to a bucket in the lobby she'd positioned under a persistent drip.
"One of the toilets in the ladies' room on the balcony level is leaking."
Karl frowned. "Who are you getting out here to deal with it? There's a new plumber up in Bayshore who came into the store last week." Karl ran Lakeside Hardware. Some towns had beauty parlor–based gossip networks. Moonflower Bay had the hardware store. "He left a card. You want me to drop it by later?"
Does he take Monopoly money? Will he plumb in exchange for theater tickets? "Sure," she said, leaving out the part where her plan was actually to stick an "Out of Order" sign on the stall in question, leave the bucket where it was, and hope for the best.
"He's just starting out, so he's probably cheaper than Marco Garretson," Karl added, naming the plumber most people in town used.
Hmm. Maya was pretty sure they hadn't seen that rejection letter, but the budget plumber recommendation made her wonder if the old folks knew about her financial problems anyway. But that was impossible, because she hadn't told anyone. Not her parents, not her friends Eve and Nora. No one.
"I'm sure he can fix you right up." Karl tilted his head back again to look at the water-stained ceiling, which caused Maya and everyone else to do the same.
"Great!" she said with manufactured enthusiasm. "Looking forward to being fixed right up!"
And with that, a chunk of plaster fell on her head, bounced off a prong of the tiara she was still wearing, and shattered into dust on the floor at her feet.
***
A week later
"Where the hell is Carter?" Law muttered. He'd intended it as a mutter, anyway. It came out more like a shout.
It was a rhetorical question. He had a pretty good idea where Carter, who'd been due in an hour ago, was. Sleeping it off. Carter had closed last night, and when Carter closed, he tended to be late the next day.
Law flashed his everybody-knows-your-name smile at the tourist seated at the bar in front of him, a thirtysomething woman he did not, in fact, know. He'd startled her when he yelled, and she'd sloshed some of her drink onto the bar. "Sorry about that. Let me make you a new one on the house. Vodka soda, extra lemon, right?"
He whipped up her drink and slid it across the bar, smiling absently at her thanks—she was trying to engage him in conversation and he was trying to avoid being engaged—as he angled himself to try to see out the bar's propped-open front door.
He couldn't see anything, but he could hear. The high school marching band, which always led the parade, was playing "Under the Sea." Which meant it was starting. Dammit.
The Mermaid Parade was one of the two big annual festivals that lured outsiders to town, and the weekend was a mainstay of the Moonflower Bay economy. The bar had been busy before the parade and would be slammed after it—so Law's desire to duck out and watch it aside, Carter needed to get his ass in here.
Law had two employees. Carter, who was full-time, and Shane Calloway, who manned the outdoor pizza oven when it was open, which was from five until eleven every night except in the winter. When the young Grizzly Adams type wasn't at the bar, he was out shooting deer or pulling fish out of the lake with his bare hands or figuring out ways to get the remote cabin he lived in even further off the grid than it already was. Shane was the opposite of Carter in that he was 100 percent reliable—he'd be in today at four thirty on the dot to get the fire started—but he lived so far away he couldn't be called to come in last minute. Normally Law's retired dad would help out in a pinch, but his parents were already at the parade and he could hardly ask his dad to switch places with him.
Law picked up his phone to text Carter for the third time this afternoon. Dude, where are you? The parade is underway and we're about to be overrun. We gotta set up the outdoor bar. He tried to tell himself that he wasn't missing anything. You've seen one Mermaid Parade—or thirty-three—you've seen them all.
As evidenced by the fact that he knew the whoop-whoop of the sirens on his buddy Sawyer's police cruiser marked the halfway point.
He tried to distract himself by chopping citrus for garnishes, but something was happening beneath his skin. It felt like that soda he'd just poured was fizzing through his veins.
"You okay?"
He glanced up.
"You're all jumpy," Ms. Extra Lemon said. "Like you're waiting for bad news or something."
"I'm fine. Just . . . " About to miss the king-and-queen float. It wasn't a triumph if he wasn't there to witness it.
"Oh, okay. I was going to sympathize. I mean, you don't sit in a bar by yourself on a beautiful summer day in a beach town unless you've got problems." She gave a self-deprecating snort.
This was the part where he was supposed to do his bartender duty and ask about her troubles. It was the role people expected him to play, and usually he didn't mind it. Enjoyed it, even. He'd grown up in this bar, and when the time had come for him to take over its day-to-day operations so his dad could retire, he'd been happy to do so. But right now, he could hear the distant strains of the Gorgons, the town's women's choir. They usually walked in front of the king-and-queen float.
Which meant she was coming.
Law's customer performed an overly loud sigh that was meant to be another cue. Instead of asking her what was up, he wondered if another free drink could convince her to watch the bar in his absence.
But no. He couldn't. Lawson's Lager House had been founded by his grandfather in 1943 and had been a town institution ever since. It had almost closed in the recession of the early 1990s, but his parents had pulled it back from the brink. It was his family's legacy, in other words, and you didn't just leave your family legacy unattended so you could go watch a parade.
Anyway, it wasn't like he didn't know exactly how it would go. The Gorgons would be singing something from the Spice Girls, and the same old float would come rolling down Main Street hitched to Art Ramsey's pickup. Then the band, which would be waiting at the end of the route, would back up the Gorgons for "Kiss the Girl" from The Little Mermaid, which was the big finale.
There would be no actual kissing of the girl, though, because the king was usually Karl, who had four decades on his queen. But also because the queen would be scowling, lips pursed in displeasure. He grinned just thinking about it.
Although the king this year was Jordan Riley.
Did that mean there might actually be kissing? A ceremonial kiss? Law vaguely remembered one year, long before the Maya Dynasty, when Allison Andersen and Charles Braithwaite had been king and queen and had shocked everyone by laughingly kissing—but, like, a real, drawn-out kiss—at the end of the song. And hadn't they gone on to date for a while? Allison was married to someone else now, but Law kind of thought so.
The carbonation in his veins was becoming unendurable. He had to get out there. Ms. Extra Lemon it was. You tended bar enough years, you became a decent judge of character. He'd come back and listen to her talk about her problems for as long as she liked. "Listen. I'm wondering if you can do me a—"
The bells on the door jingled. Ah! Saved by the only townsperson who wouldn't be at the parade. "Jake!"
His friend paused in the doorway. Yeah, that greeting had probably sounded way too enthusiastic, given that they saw each other all the time.
He tried again without the exclamation mark. "Jake. What are you doing here?" The town curmudgeon usually spent festival days holed up in his cottage in Paradise Cove.
"I was helping the new doctor get set up for her vaccine campaign, and I stupidly left my truck on the other side of Main, so I'm stuck until after the parade." He pulled out a stool.
"Well, help yourself to whatever you want, but do me a favor and watch the place for a few minutes, will you?" Law came out from behind the bar. With anyone else, he would have expected an interrogation about his sudden need to bail on his place of business, but he was counting on—and got—merely a grunt of assent from Jake. That was the nice thing about Jake. He wasn't always jumping to conclusions where there were none to be made.
He'd made it almost all the way to the door when Jake's voice caught up with him. "You'd better hurry or you're going to miss her."
"What's with the Spice Girls thing?" Sawyer asked a few minutes later as he came to stand next to Law on the curb near the end of the parade route. Sawyer had finished his role in it, parked his cruiser, and shown up to watch the end.
The Gorgons were approaching, performing an enthusiastic version of that "If you wanna be my lover" song. Several of them sported headpieces that made it look like they had snakes for hair.
"Why is it always the Spice Girls?" Sawyer went on. "I mean, songs from The Little Mermaid I get. But the Spice Girls?"
"Maya got her undies in a bunch years ago because I didn't have any Spice Girls on the jukebox at the bar. So I think she gets them to sing it to stick it to me. Also, you may remember that the Gorgons never marched in front of the royalty float back in the day. They were further up in the parade, and . . . "
He trailed off, registering Sawyer's puzzled look. Yeah, Sawyer didn't remember that. It was a weirdly specific detail that only someone obsessed with the parade would recall.
"So what you're saying," Sawyer said, "is that you get Maya elected mermaid queen every year, and she responds by surrounding herself with a choir named after figures from Greek mythology whose whole schtick was to turn men to stone and she has them sing the Spice Girls purely to irritate you."
Ah, yes. That was what Law was saying. But he did realize how ridiculous it sounded when put like that. Annoying Maya was his main hobby, which maybe didn't reflect well on him, but he didn't care. Given that he was cursed by being wildly attracted to a woman who hated him, and given that the feeling was mostly mutual— though he couldn't honestly say he hated her as much as he was endlessly annoyed by her—the Mermaid Parade was pretty much the highlight of his year. He got to see Maya in all her glory, and he got to bug the shit out of her. Win-win. But he didn't know how to answer Sawyer's question. Law had learned to live with the contradictions inherent in his relationship with Maya, but his friends did not need to know about them. They wouldn't understand.
Sawyer shrugged, returned his attention to the float, and said, "That sounds about right, actually."
The Gorgons wrapped up the song, and the band began playing a royal flourish, heavy on the horns.
Maya was wearing her signature Converse high-tops—a sky-blue pair. After the first year of her reign, she'd cut a hole in the bottom of the tail so her feet could peek through, saying she "refused to be jailed," which was a very Maya-esque turn of phrase. The green and blue sequins on the tail made it sparkle in the sun. She wore a hot-pink tube top and had painted her lips a matching color. Her long, so-brown-it-was-almost-black hair hung loose down her back, which was a rare occurrence, and it was windy enough that she kept having to push it out of her face.
As the float came to a halt, she made one last rotation perched on her throne, waving first to the people on the other side of the street. It wasn't a fakey beauty-queen wave, but it also wasn't the kind of wave she'd do in her real life. That kind would be fast and enthusiastic—Law aside, she was always happy to see people. No, it was merely a slow, unremarkable, almost disinterested wave. And as she turned to face forward, he could see that it matched her expression, which was blank. She wasn't smiling. She wasn't scowling like she sometimes was on that throne. She was bored. Unmoved.
Well, damn. Maybe it was time to retire this stunt. He'd had people in the bar this past spring asking him for ballots before he'd even bothered to put any out, though, so he wasn't sure he could retire it.
She kept up the blase waving as she rotated to face his side of the street, her arm moving mechanically in between brushing hair off her face—clouds were moving in, and the wind off the lake was picking up.
Something happened as their gazes met and she registered his presence. She rolled her eyes. Not a lot. Just a little. Enough to communicate, though, when you were capable of communicating in subtle gestures like they were, resigned disgust.
Ha! There it was. He choked back a grin and raised his eyebrows at her. Not a lot. Just a little. Enough to communicate, when you were capable of communicating in subtle gestures like they were, triumph.
As the Gorgons finished their song, a huge gust of wind tore across the beach from the lake. It was so strong and sudden that some people gasped. Maya had been about to climb down from the float, so she was standing. She grabbed a corner of her throne with one hand and flung the other out to balance herself. The wind caught her hair and blew it up and out behind her, so she looked like a Gorgon, too. Like the queen of the Gorgons, commanding the vengeful musical army at her feet.
But she also looked like the queen of the mermaids. The hand she'd flung out to balance herself was holding the trident, and with the drama of the gesture, you could almost believe she was creating the wind, like she was about to call forth the lake itself, to summon a tidal wave that would subsume them all.
She was stunning.
Preorder the e-book
Amazon | Apple Books | Barnes & Noble | Kobo | Google
Preorder the paperback
The Ripped Bodice | Love's Sweet Arrow | Indie Bound | Amazon | Barnes & Noble | Books-a-Million | Chapters Indigo | Walmart | Target
Preorder the downloadable audio
(also available in audio CD at some retailers)
Amazon | Audible | Apple Books | Kobo | Google | Libro.fm | Spotify