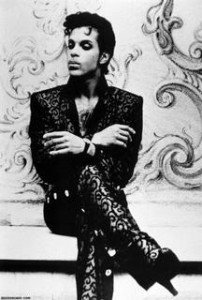 Did you know that Prince is following me, in a kind of reverse celebrity stalking? Let me lay out the evidence. I grew up and came of age in the gorgeous city of Minneapolis. Prince grew up and came of age in the gorgeous city of Minneapolis. I moved to Toronto some years ago. Prince moved to Toronto shortly thereafter.
Now back when I was a little chickadee and Prince was playing shows at the now-made-famous-by-the-film-Purple Rain concert venue First Avenue, I certainly thought that Prince was going to change the world, or at least cause a tiny little revolution in gender roles. "I'm not a woman, I'm not a man," he said, stalking around in his purple stilettos, "I'm something that you'll never understand." He had girls in his band without having girls in his band be a gimmick. This was before he became a Jehovah's Witness and began to believe that the women should stay home and raise the kids.
Oh, but weren't we lucky without knowing so? Prince lived among us in a big purple house and he showed up in the local gossip columns saying weird but lovable things, doing weird but lovable things, wearing weird but lovable things. And we tolerated him, rolling our eyes with secret affection. Yes, we said, he wears buttless pants and changes his name from time to time to an unpronounceable symbol, both things that We Do Not Do Around Here, but he is One Of Us. And the teenagers among us began 2 write like him, 4 we felt that the use of numerals in place of letters was somehow symbolic of our inner brilliance, our inner sensitivity 2 all that the capitalists and racists among us were blind 2. (Lily still writes this way. We continue to disagree on whether the replacement of the pronoun "I" with the word "eye" is part of the "pure" form of Prince Speak or merely a late-on-the-scene bastardization. Clearly eye M in the right here and Lily's misguided interpretation is merely reflective of her advanced age. She clings to her youth. But eye digress.)
But, really, wasn't he a genius? I am prone to exaggeration, but it seemed so. What Prince gave us was the perfect pop song, an art form that I fear is lost in the current dark age of millionaire teenagers whose wits are not nearly so taut as their bellies. A song by Prince, a song, like, say, When Doves Cry, could be one the one hand a perfect, singable song, about a crystallized moment in time ("dream if you will a courtyard,") and no more. But, it could also be a sad song about ruined love ("why do we scream at each other?"). But, wait, there's more, there are Freudian parental issues ("maybe I'm just like my mother, she's never satisfied")! But, wait!, wait!, the whole thing is, with a little unexpected flourish, wrapped up in a much bigger and yet not unpalatable doves/peace/war metaphor. But you can still dance to it and of course can choose to ignore one or more of the levels of genius embedded within, should they offend your definition of popular music or challenge your grasp of the metaphorical.
And doesn't this all lead us, then, to the ultimate Prince song, to Purple Rain? Aahh. Think of it, think of the words themselves: purple, rain. Put together they are such nonsense, and yet they belong together, don't they? And think of the opening line, a plaintive, "I never meant to cause you any problems." Oooh, you'd keep reading a novel that opened that way, wouldn't you? Like all the best Prince songs, it's about two things. First, there's doomed love. So sad! "I never wanted to be your weekend lover!" But it's also somehow inexplicably about racism and prejudice. "You can't seem to open your minds, so close them, and let me guide you to the purple rain!" But the best part is that even though the song is so totally tragic on all levels, it feels, with all those whining guitar interludes (If you're doing your homework, I really must insist that you listen to the long version as it appears on the Purple Rain album, not some randomly-truncated-for-radio version such as you might hear on the Lost Eighties Lunch) like a totally slow-dance-able-at-the-prom ballad. I must have heard it for a good ten years before I registered its utter inappropriateness as a straight-up love song. Oh, but isn't this unlikely juxtaposition the best thing about it? Because isn't this what love is actually like in the world?
And now we come to my 13-year-old fantasy. Well, there are many, but this one looms large. I am at either a roller rink or a school dance. I am wearing a horizontal-striped boat necked long sleeved t-shirt like Madonna in the Papa Don't Preach video (I am, however, not a teenage mother-to-be), black velvet miniskirt, black tights, black flats. In my fantasy, I am not hiding in the bathroom when the slow song begins (so as to avoid literally leaning against the wall: "even doves have pride") because in this universe there is no reason to hide. I am shocked, and yet not shocked, when my teenage dreamboat crush, who is not the captain of the football team, but also not the captain of the chess team, begins to walk toward me. Perhaps, to accord with the opening of the song ("I never meant to cause you any problems") he is my debating partner. Or perhaps we have run against each other for student council and clashed on the issue of whether installing a pop machine in the student lounge is a step forward in the self-determination category or a harbinger of a lifetime of obesity for our fellow students. Whatever, we clearly must set aside our differences and face up to our undeniable attraction to each other. We must dance to this song. And so we do. But wait! We must introduce a tinge of sadness. Perhaps it is the end of junior high and we are bound for different high schools. Or perhaps I in my brilliance have been invited to transfer to a special gifted school in Paris. Either way we are not sure if the song portends romance or doom. We dance. It is bittersweet.
And, um, that's all. It never really got much farther than that. I mean, come on, even your wildest imaginings have to have their limits. I don't think we lived happily ever after. I don't even know if we ever saw each other again, after I transferred to Paris. I sent him a few postcards, maybe, but he was sensitive to the fact that I'd become too, well, continental for him and so we drifted apart into the Purple Rain.