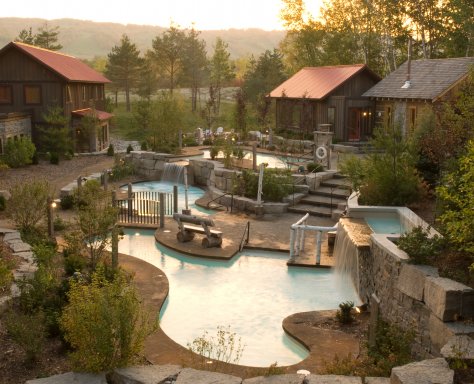 The phone rang at work, and when I picked it up I heard this:
"Don't give me too many details about your life or else we won't have anything to talk about this weekend—because we're BORING!"
It was Lulu, doing the Lulu-shriek-talking. She, the Boss, and I are headed out of town for a little weekend getaway we like to call MOTHER'S DAY WITH NO CHILDREN.
Spa-ing, hiking, riding down some kind of crazy slide down the side of a mountain. My only regret is that the zipline where they let you go tethered together with two friends isn't yet open for the season.
I tried to give Lulu the directions, because she's meeting the Boss and me there, and she said, "Look, I'm just going to drive north and when I get close, I'm going to pull over and start texting you guys."
"The weather is supposed to be bad," I'd remarked in an email exchange earlier.
"That's OK," Lulu wrote.
That just means more time for the free entertainment show and earlier drinks. We could spend the whole weekend locked in a car and we'd still have fun—as long as it doesn't get too hot. PS. I hate typing now since there is no auto correct – can't they set that up on my computer?
What is this "free entertainment show" she speaks of, you might ask. Is it going to be like in Dirty Dancing, when you go to the resort and they put on a show in the dining hall and then later you "make friends" with one of the dancers and he helps you find your true awesome self and also you pioneer the unfortunate trend of rolled up cut off jean shorts?
No, the "free entertainment show" is merely Lulu's unceasing colour commentary on life.
"OK!" she said as we were preparing to hang up. "You two–don't talk about too much in the car! Talk about kids in the car!"