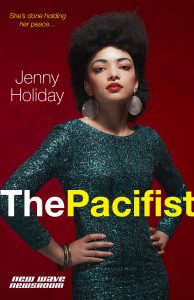 Laraline Reynolds has spent her entire life as a certified Good Girl. The perpetual peacemaker in her volatile, conservative family, Laraline promises herself that she'll spend her last year of grad school getting in touch with her inner rebel before she settles down and marries her family-approved long-distance boyfriend. But Laraline's Year of Fun quickly turns into something more complicated, and she finds herself at the forefront of a movement to change her college's sexual assault policy.
It's the Year of No Fun for Tony Bianchi. A fifth-year senior, he needs to graduate, so he's put a moratorium on his two favorite distractions: girls and photography. But when Laraline comes calling, needing some photos for her cause—and for her campaign for a seat on the college board of governors—Tony's resistance comes crashing down.
They both fall hard. But while Tony is ready to give it everything he's got, Laraline is afraid. She wasn't prepared for her one-year rebellion to lead her to the life she truly wants. In order to break free from her family, she'll need to do the scariest thing of all—follow her heart.
Buy the e-book
Amazon.com | Apple Books | Barnes & Noble | Kobo
Buy the paperback
The Ripped Bodice | Love's Sweet Arrow | Indie Bound | Amazon | Barnes & Noble | Books-a-Million
Chapter One
August 1984
Tony
I wasn't supposed to be taking photographs this semester, but the picture practically composed itself.
It was the tail end of summer, and the courtyard was overripe, teeming with life. Large willow trees poured their lush green waterfalls down toward the lawn, which was studded with purple flowers.
The girl had her back to me, but I knew she was beautiful. There was something about her, her posture maybe, or just her aura, though I normally didn't go in for that kind of hippie shit. She wore a loose, slouchy mustard-yellow dress belted at the waist with a wide black leather belt, and black ankle boots. She was tall, and her hair added another several inches of height, so she blocked my view of the guy she was with.
Still, it was obvious what they were doing. They were locked in a close embrace, and the guy had his arms around her, holding her close. I shifted from foot to foot, my pants made tight by my voyeurism.
Even the animals were transfixed. Well, one of them, anyway. A single squirrel stood a few feet from the amorous couple, head cocked, staring at them, which wasn't necessarily saying much because the squirrels on this campus were domesticated, fat, and demanding as they stalked students who dared to eat outside in Allenhurst College's various quads and courtyards.
There was no doubt in my mind that Beth would run this shot even though I technically wasn't on the newspaper staff anymore. She might even do it in color, despite the expense. Sometimes the Allenhurst Examiner's first issue of the year—the welcome back edition—ran a color front page. Getting a shot on the front of first issue of the year would be a nice way to start what was, depressingly, year five of my degree. It turns out that when you spend more of your time at the newspaper office and partying than you do in class, it catches up with you. Which was why this semester was going to be about classes and nothing else. If I put my head down and worked hard, I could graduate in December. That meant no photography. No parties. No girls. But the idea of one more photo in the paper as a bookend of sorts, a coda to my career as the Examiner's photographer? It had undeniable appeal.
Especially this particular photo.
Another squirrel sauntered over and joined the first, and I had to bite my tongue to keep from laughing. This shot was gonna be so perfect, people were going to think I'd staged it.
I almost felt to easy, inserting myself into this crystalline moment and making it mine. They were standing in the perfect location inside my viewfinder, about two-thirds of the way over from the edge of the ivy-covered building I was planning to use as a framing device. And I wouldn't even have to get them to sign release forms because neither of their faces showed—which was good because although I wasn't above a little mischief in pursuit of the perfect shot, I didn't relish the idea of interrupting that heated kiss.
I lifted my camera and adjusted the focus. It was going to be an amazing shot, and though I would take the credit for it, it wouldn't be because of me. I was merely lucky enough to stumble onto a perfect scene that had already composed itself.
Click.
Buy the e-book
Amazon.com | Apple Books | Barnes & Noble | Kobo
Buy the paperback
The Ripped Bodice | Love's Sweet Arrow | Indie Bound | Amazon | Barnes & Noble | Books-a-Million