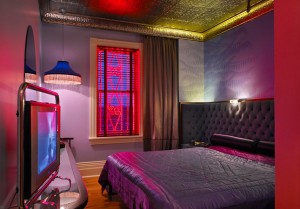 Lily is coming on Friday! This is how she  broke the news:
I M thinking of coming up there on May 3 if U R around.  I wanna C U and yr artist kid B4 he grows up and becomes the next Basquiat and I have 2 wait in line at the Pace Gallery 2 talk  him 4 30 secondz. let me know if that date sux tho.

p.s. we went 2 a nite last week at some loft and got 2 stand on a guy rolled up in a carpet while we ordered our drinks. I wish I could have magically made U appear just 2 get a good look at it and then bought u a lemon drop.
And where is she staying? Why, the Twilight Parlour Room at the Gladstone, of course.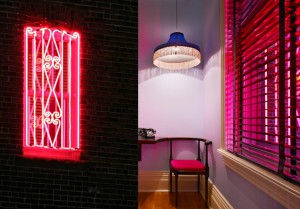 (For one night, then she's coming to my house where she belongs.) Lily has been trying to get the Twilight Parlour Room for YEARS and she always ends with a room that has a fake forest in it or something similarly offensive.
Note the neon. Did you know that Lily is learning to make neon signs? Like, in her free time. She is trying to further her dream of opening a store that sells only black floral arrangements and white neon. "I need 2 focus here," she says about her new career trajectory, "or I'm gonna B 42 with nothing 2 show 4 it but a catalog of crazy jobs, no lasting contribution 2 anything worthwhile,  and a houseful of furniture I swiped off the street."