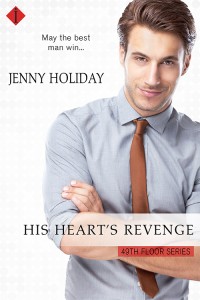 Well, here's some news: I just signed a deal to add a fourth book to my 49th Floor series published by Entangled's Indulgence imprint. You know the one with the wounded, cranky, rich CEO dudes who think they aren't interested in relationships?
And guess what? Book 4, called His Heart's Revenge, is going to feature not one, but TWO wounded, cranky, rich CEO dudes who think they aren't interested in relationships. Yep, I'm crashing the m/m romance novel party!
I'm super excited about this for a bunch of reasons.
1. I love reading series where the sexual orientation of the characters varies. You know, JUST LIKE REAL LIFE. Throw a bunch of wounded, cranky, rich CEO dudes into a room and one or two of them is bound to be gay, no?
2. The 49th Floor series is set in my beloved Toronto. The UN calls Toronto the most diverse city in the world. That's why not everyone in the series is white. You know, JUST LIKE REAL LIFE. Now, not everyone in the series is straight, either.
3. I love that an established category romance imprint is publishing this book. When you write category romances, you're generally more limited in what you can do—you've signed on to write a book that comes with a pre-existing brand. There are rules of the universe, so to speak (which is part of why I love category romance as a reader and as a writer, but that's another post). I wonder if part of the reason you don't see a lot of queer category romance is because in addition to imprint-specific rules, we generally take for granted, in established mainstream imprints, that we're getting a man and a woman. I have to give a big shout out to Entangled here. (Did you know they accept m/m and f/f submissions in all their imprints?) I was also quite delighted, when I was going back and forth with the proposal for this book, that I got some (minor) pushback on a few issues. For example, one plot point required one of the characters to do something that was deemed not in keeping with an Indulgence hero. I love that. (I'm weird that way in general—I love being edited. But I also super-loved that in this case, category tropes were being scrupulously applied, regardless of sexual orientation.)
So, are you ready for TWO Indulgence heroes? His Heart's Revenge isn't done yet, but I can tell you that our heroes both work in the financial sector. One is an established bank CEO, and the other is an upstart launching his own private wealth management firm. (If you read my forthcoming book 3 in the 49th Floor Series, The Engagement Game, you'll recognize our upstart hero as Marcus's cousin Cary.) They're in competition for a huge client, and our established CEO is Not. Losing. To. That. Punk. Partly as a matter of pride (he's an Indulgence hero, after all), but partly because it's personal. Yes, they have history. Which means some revenge is gonna rear its ugly head. And also: they are forced to go camping together. (Don't you hate it when that happens?)
Big thanks and high fives to editors extraordinaire at Entangled, Tracy Montoya and Heather Howland, to my friend and former editor Gwen Hayes for match-making me with this project, and of course to my agent and friend and tireless advocate, Courtney Miller-Callihan.
Whee! Here we go!