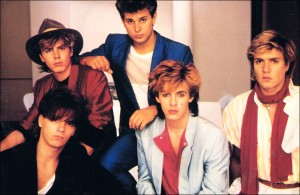 Lily spent last Tuesday night on Liberty Island at a private party to launch some new brand of vodka. Not being told by the publicist friend who invited her that the event was part of Fashion Week, she came dressed in her usual Lacoste-meets-Goth clubwear. They were ferried over and plied with pink vodka drinks distributed by supermodels in babushkas. Enough pink drinks and she was able to forget that she was wearing a polo shirt and platform boots and Mikal Baryshnikov was wearing Armani.
After watching fireworks while lounging on Persian carpets and plush throw pillows scattered about on the lawn, the evening ended with a concert by none other than Duran Duran. Playing on a floaty raft thing forty feet out in the water, they were, Lily reports, "phoning it in." She did not care, though, because of course she will someday marry Simon Le Bon. One doesn't want one's husband to be too enthusiastic when whoring himself out at corporate gigs, does one?
He took off his jacket and she was overcome with a desire to yell "take it all off" but thought about how she was surrounded by nine-foot supermodels doing shots of vodka and just clapped politely.
"Then we got back on the ferry with Mikal and the supermodels and I went back home," says Mrs. Le Bon.