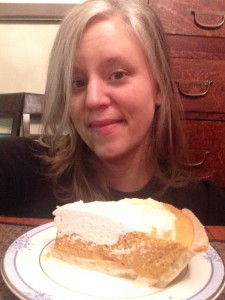 NOTE: This is an extended version of a post I have up at Entangled in Romance–they're running a series this month of many of their authors' holiday recipes.
My grandma's pumpkin chiffon pie makes an appearance at pretty much every Holiday family holiday (ha! get it?). Unlike straight up pumpkin pie with its dense, in-your-face presence, this is a light, airy, custardy delight straight out of the 1960s. Like all the best family recipes, this one comes with some mystery, namely WHY DOES IT NOT THICKEN WHEN THE RECIPE SAYS IT WILL? Alas, my grandmother isn't around to ask anymore, and everyone just sort of gives it their best shot and the pie always turns out just fine. Scroll down to the bottom of this post if you want to skip the BS and get right to the pie.
Basically you dump everything into a double boiler and wait for it to get hot. The recipe says it will thicken. IT WILL NOT THICKEN.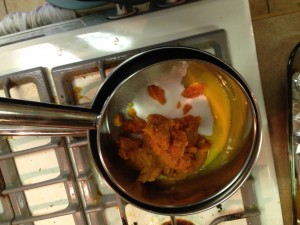 The next step (NOT PICTURED. I'LL SIGN IT UP FOR RETAKE DAY, OKAY?) is to beat egg whites with sugar and fold them into the pumpkin mixture. Yes, there are raw egg whites in this recipe. What can I say? It's from a simpler time, before salmonella, helicopter parenting, and Kim Kardashian. Also, if Rocky Balboa can eat raw eggs, so can you.
And that's pretty much it. Pour everything into a pie shell, and you're good to go.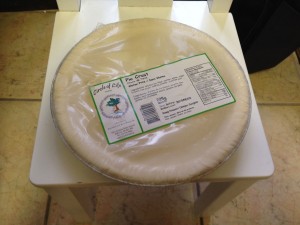 If you have extra filling, which I always do, you can pour it into ramekins and eat it like custard. This is a good option if you have gluten free peeps in your family like I do.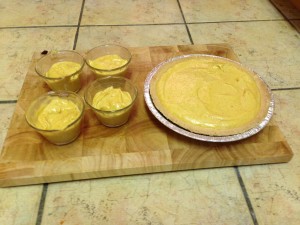 Then, if you want to be fancy and/or, like me,  your fondness for high-fat dairy products knows no bounds, you can add a layer of whipped cream, which you can doctor however you like (I like just a bit of sugar and a pinch of cinnamon).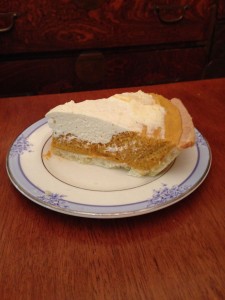 Grandma Blanche's Pumpkin Chiffon Pie
1 envelope Knox unflavored gelatin
¼ cup cold water
1 ¼ cups canned pumpkin
½ cup milk
½ tsp ginger
½ tsp nutmeg
½ tsp cinnamon
½ tsp salt
1 cup sugar
3 eggs
Separate eggs. Beat yolks slightly. Add 2 cup sugar, pumpkin, salt, milk, and spices. Cook until thick in a double boiler, about 20 minutes. (IT WILL NOT GET THICK, DUDES. I just let it cook and be hot/simmer but watch closely so as not to scramble the eggs. Soften gelatin in water. Add to the pumpkin mixture. Mix thoroughly and cool. Beat egg whites, and toward the end of the beating, add ½ cup sugar. Beat until stiff. When pumpkin mixture begins to thicken (BECAUSE OF THE JELLO!), fold in the egg whites. Pour into a previously-baked pie shell. I think my grandma left things here, but the recipe has evolved in subsequent generations to add one final step: When cool, top with a layer of whipped cream to which a pinch of cinnamon and sugar to taste has been added. Chill.