On the one hand, how excited was I that my sister and I just walked into a fancy nail bar on a random sisters' weekend in an unfamiliar city, and they had CND Vinylux* in Dark Dahlia just sitting there as one of their options?
On the other hand, how depressing is it that you can walk into a high end nail bar and spend a lot of money on black nail polish that everyone and their red carpet walking sister is sporting?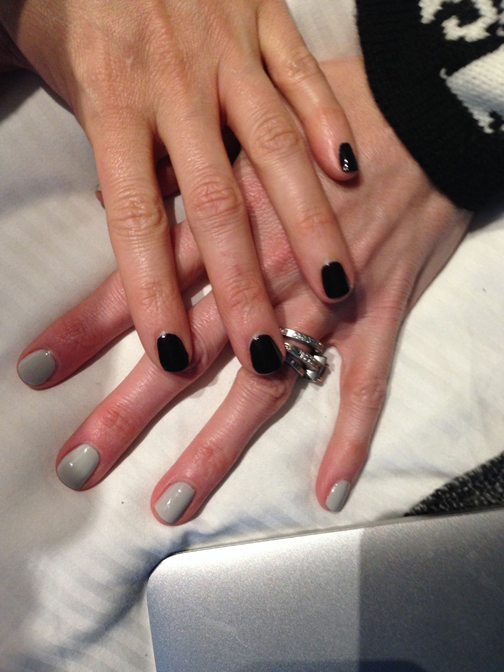 Back to the first hand: how awesome is it to have a professional apply your black nail polish? Instead of looking like a six-year-old in detox was your manicurist, the edges are all meticulous. Plus they rub your arms with lemony lotion. And because you're there with your beloved but seldom-seen sister, you are content to sit there gabbing indefinitely while the polish dries, instead of telling yourself the ill-fated lie that enough time has passed so that you can go to sleep/eat M&Ms/drywall the bathroom.
And one more time back to the other hand: you used to be able to buy a tube of black Wet n Wild for one dollar.
So basically what you're experiencing anew here is that moment you realize you've been telling yourself you are the unique orchid soul sister of Angela Chase from My So-Called Life, only to discover that EVERYONE ELSE thinks they are the unique orchid soul sister of Angela Chase from My So-Called Life.
These are first world problems, to be sure, but…dang.
By all outward appearances, I am not a goth. But my friend Lily tends that way. It's kind of amazing that we're friends at all because on the surface we have nothing in common. Once I saw a pin that said, "Goth Inside," and I told her I was going to get that etched on her tombstone. She countered that it was actually the perfect descriptor for me. Apparently underneath my pink clothing and sunny disposition, I have a goth soul. I took it as a huge compliment.
But I digress. The point is that in 2014 you can totally pay someone a crapload of money to paint your nails black.  As you've gathered, I'm deeply conflicted about this.
And then Lorde! She shows up at the Grammys not just with black nails, but with black-dipped top finger joints! How can a 40-year-old "Goth Inside" girl compete?
I cannot. I can just throw my pink scarf on and pay for my Dark Dahlia nails, and mind meld with Angela.
*CND. It is the shit. Seriously, that stuff lasts, and I'm not even talking about the shellac because that crap scares me. They are not paying me to say this, but they should be.