How could I possibly have missed the fact that September 19 was International Talk Like a Pirate Day? I mention this because my sister and my cousins and I do enjoy talking like pirates. Come on, it's the simple pleasures in life. This weekend, Canadian Thanksgiving, I will be visited by the ghosts of Christmas Past…no, wait, I will be visited by my sister and one of my cousins. The cousin and sister in question are super smart, super funny, super sarcastic. And they both wear cute little horn-rimmed glasses. I think they are superheroes. We will go out and dance. We will drink. We will talk like pirates. We will drunken-dial our other cousins and talk like pirates.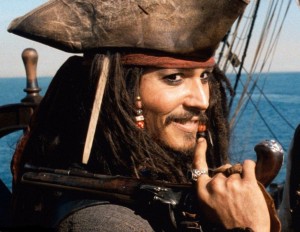 As a rule, I do not recommend drunken dialing, but since you know you're going to do it anyway, allow me to suggest a few ground rules. 1. No ex-boyfriends. 2. No calls to an old pal you have not spoken to in years but suddenly feel "incredibly close" to. 3. Do not commit to anything. Do not commit to meeting your drunken dialee for lunch once a week. Do not commit to a girls' weekend in Vegas. Do not promise to babysit your friends' kids for a week this winter. Basically, your calendar is off-limits whilst drunken dialing.
This basically leaves two options. 1. Call your best friend and say the same old stuff about how funny everything is and how much you love her. 2. Call your cousins and talk like a pirate.
Duh.